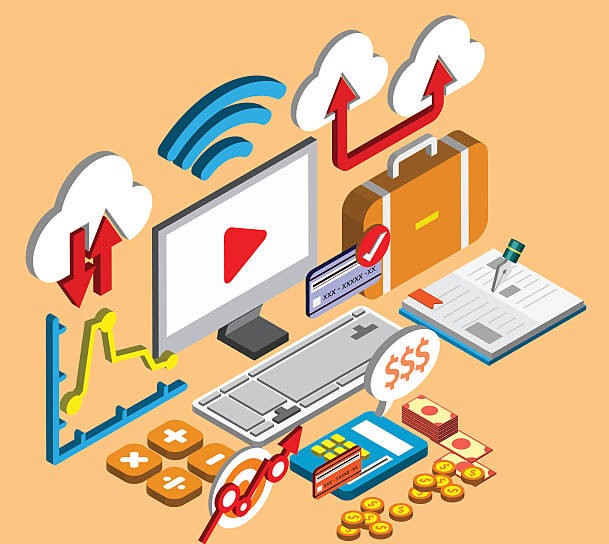 | | |
| --- | --- |
| | TradeUP Thursday |
• What are the signals in the tech stock market?
• Why is the Ford-UAW tentative agreement important during the strike?
• What's the progress on the GOP's Speaker search?
Dow Jones
S&P 500
Nasdaq
32,999.42

(-0.11%)

4170.85

(-0.38%)

12,767.11

(-0.42%)

Opening price as of 10/26/2023 compared to last close
IN THE HEADLINES
Caution Signs After Big Tech Earnings
Amidst the backdrop of a stock market rally primarily fueled by big tech earnings, the current earnings season isn't providing a straightforward narrative. Microsoft's results hint at a resurgence in business-to-business spending and a bottoming out of cloud spending. Conversely, Google's earnings signal the opposite. The result is a lack of market conviction, leading to a turbulent month for investors with conflicting signals on the horizon. Google shares dropped about 9%, while Microsoft managed to secure gains of 3%. Uncertainty is exacerbated by factors like rising bond yields and ongoing debates about the Federal Reserve's actions, making the market appear unsettled and volatile. Read more

UAW strike: Ford and union agree to record pay raise in tentative deal
A tentative agreement has been reached between Ford Motor and the United Auto Workers (UAW) union, potentially signaling the end of the ongoing UAW strike at Ford. While an official announcement is pending UAW leadership's approval, sources suggest that it could occur as early as Wednesday night. The agreement reportedly includes proposals for wage increases of at least 25% over the deal's term and improved benefits for union members. However, there is no information provided regarding negotiations between the UAW and Stellantis/General Motors. To take effect, the deal must be ratified by a majority of Ford's 57,000 union members. Read more

Rep. Mike Johnson elected Speaker, breaking weeks-long stalemate
House Republicans went through a day of twists and turns as they nominated and quickly withdrew multiple candidates for the position of Speaker. The latest entrant in this dynamic leadership battle is Representative Mike Johnson, a relatively lesser-known social conservative from Louisiana. He stepped into the race after Representative Tom Emmer of Minnesota secured the nomination but later withdrew due to backlash. Johnson's nomination highlights the internal differences within the Republican Party. Despite the uncertainties, House Republicans are determined to end the weeks-long stalemate and elect a Speaker. Read more
TradeUP TIDBITS

As the holidays approach, shoppers are in a mood to spend
As the holiday season approaches, consumer spending is anticipated to rebound and even exceed pre-pandemic levels, marking the first time such a resurgence has occurred. However, a surprising trend is emerging consumers won't be splurging primarily on gifts this year. Deloitte's recent report reveals that the holiday shopping landscape is shifting, with consumers planning to prioritize non-gift purchases such as decorations, clothing for family, home furnishings, and more. While gift spending is still expected to increase, the report suggests that people plan to buy one less gift compared to the previous year. This shift in spending patterns indicates a focus on enhancing the festive atmosphere and home environments. Factors contributing to this uptick in spending include a higher percentage of consumers actively celebrating the holiday season, a willingness to pay higher prices for festive products, and greater spending from middle-to-higher income households. Despite retailers' efforts to advance the start of holiday shopping into October, a significant portion of holiday shoppers still intend to begin their hunt for deals on Black Friday and Cyber Monday.
Read more
INVESTOR TIPS

Stop Order

An investor who already owns a stock may wish to put in an order to sell the stock if it declines below a specific level, called the stop price. This can be an effective way to protect already-existing profits in a stock. In the past, Wall Street referred to these as stop loss orders because they were widely used to stop the erosion of a position, or to stop losses from growing excessively.
It's Time to Vote!
Share your thoughts with us on social media!

This week's topic is:

Have you begun your holiday shopping yet?
| | | |
| --- | --- | --- |
| | Enjoy the app? Tell us what you think! | |
TradeUP Securities, Inc. is a member of FINRA/SIPC and regulated by the US Securities and Exchange Commission. Registered office: 437 Madison Ave 27th Floor New York, NY, 10022. For further information about TradeUP Securities, Inc., see FINRA BrokerCheck. For further information about SIPC insurance coverage for accounts at TradeUP Securities, Inc., see www.sipc.org or request an explanatory brochure from TradeUP Securities, Inc..

All investments involve risk, including possible loss of principal. Past performance of a security, market, or financial product does not guarantee future results. Electronic trading poses unique risk to investors. System response and access times may vary due to market conditions, system performance, and other factors. Market volatility, volume, and system availability may delay account access and trade executions.

No content on the website shall be considered a recommendation or solicitation for the purchase or sale of securities, futures or other investment products. All information and data on the website are for reference only and no historical data shall be considered as the basis for judging future trends.

Please read through our Terms and Conditions before investing.

If you no longer wish to receive notifications like this, you can unsubscribe any time.