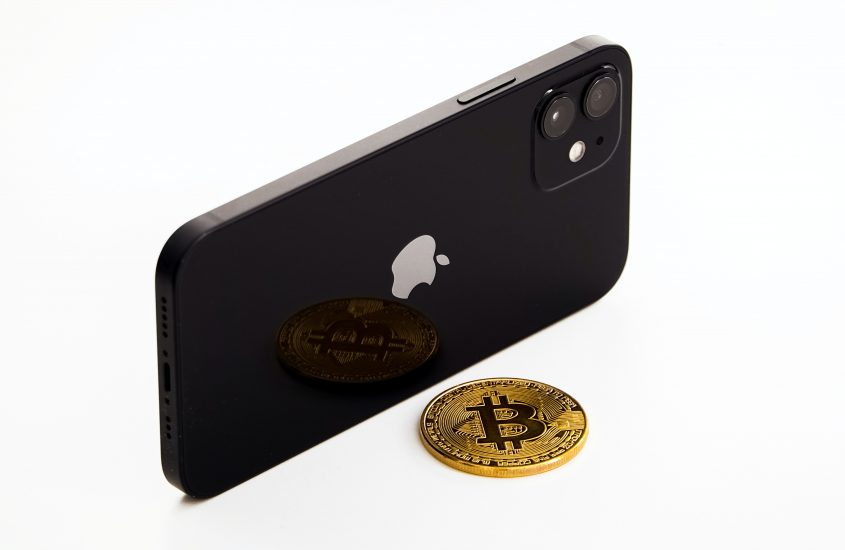 Sept 08, 2022




TradeUP Thursday




Latest news and bulletin updates
Market Trends

Dow Jones




31,481(-0.50%)

S&P 500




3,909(-0.62%)

NASDAQ




11,679(-0.95%)

(Opening price as of 09/08/2022 compared to last close)
Weekly Highlights




| | |
| --- | --- |
| #1 | Markets see a nearly 80% probability that the Fed will raise rates by another 75 bps in September |

| | |
| --- | --- |
| #2 | Apple unveils new iPhone, fitness watch, and AirPods at annual event |

| | |
| --- | --- |
| #3 | Bed Bath & Beyond CFO Gustavo Arnal died by suicide, medical examiner says |

| | |
| --- | --- |
| #4 | SEC Chair Gary Gensler asks crypto community to embrace regulation or risk being sued |
Share Your Thoughts:
A strong dollar and its double-edged effect
The US dollar has soared this year as Fed's aggressive stance pushes rapid rate hikes to fight inflation, even at the expense of economic growth. That sparked sales of stocks and bonds, driving up the 2-year treasury yield, and eventually sending the Dollar Index to its highest level since its peak in 2002. The graph below shows the movements of the DXY index (white) and Fed fund rates (blue) since the 1960s.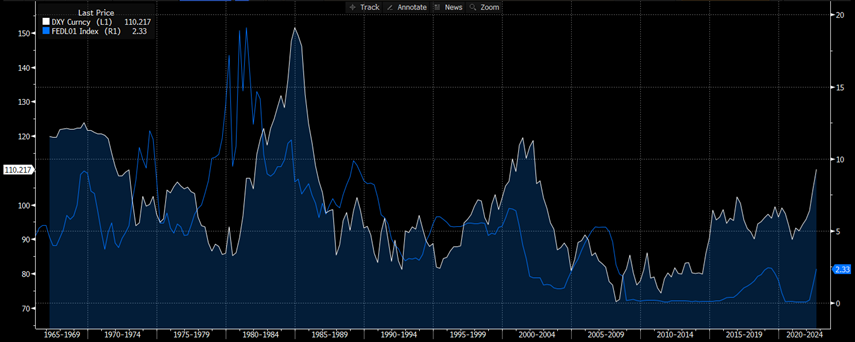 The DXY index has gained in five of the past six months and is up over 14% in 2022. A strong dollar helps hold down domestic inflation by lowering the cost of imported goods. Every dollar buys more goods and services as it rises. Since the US is a large net importer, a 14% rise in the dollar can have a measurable impact on inflation. On the other hand, in contrast to DXY declines during the inflation-plagued 1970s, a strong dollar represents more room for monetary tightening.
However, a strong dollar generally harms the economies of developed and emerging markets. It will cool down real estate market in developed markets and put pressure on emerging markets with high dollar-denominated debts.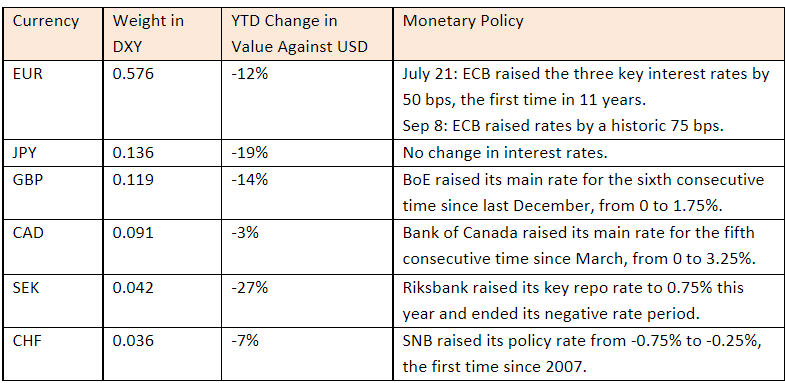 A strong dollar also means lower revenue for US corporations with international exposure. A long list of companies have already warned that the strengthening of the dollar could reduce revenue, including Microsoft, Salesforce, Netflix, IBM, etc. The graph below shows the movements of the DXY index (white) and S&P 500 (blue) since the beginning of 2022.

As Fed is on path for another 75-bps hike, where do you think the DXY index will be in 3 months?

A.< 105

B.Around 110

C.> 115
Share your thoughts with us for a chance to win a free stock!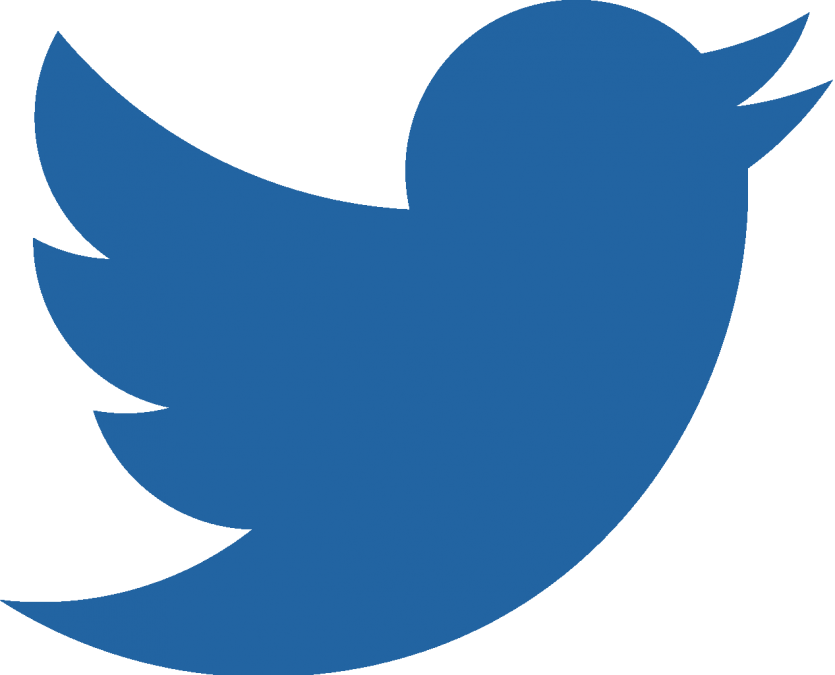 Inside Scoop
#1. Markets see a nearly 80% probability that the Fed will raise rates by another 75 bps in September

• Fed officials pledged further rate hikes until inflation significantly cools down. Fed Vice Chairwoman Brainard emphasized the need for rates to rise and stay at levels that would slow economic activity. Powell is set to speak on the economic outlook on Thursday.

• ECB has raised interest rates by 75 bps, its second hike this year following a 50 bps rise in July —and signaled that further rises were likely this year. Canada's central bank raised its policy rate on Wednesday to 3.25%, a 14-year high.
#2. Apple unveils new iPhone, fitness watch, and AirPods at annual event

• Apple hiked the price of the iPhone 14 in key markets despite keeping it the same in the US.

• All products will be available for preorder over the next few weeks, and some will ship as early as September 16.
#3. Bed Bath & Beyond CFO Gustavo Arnal died by suicide, medical examiner says

• BBBY said its CFO, Gustavo Arnal, died Friday, after police had said earlier that Arnal fell to his death. "The entire Bed Bath & Beyond Inc. organization is profoundly saddened by this shocking loss," the company said in a statement.

• Shares of BBBY are down 45% this year and about 90% from its all-time high. The company announced cost-cutting measures last week. Active investor Ryan Cohen, a major Bed Bath shareholder, exited his position last month.
#4. SEC Chair Gary Gensler asks crypto community to embrace regulation or risk being sued

• Gensler reiterated that the SEC has a primary role in regulating large parts of the crypto market, including tokens. Gensler also took aim at stablecoins, saying that some may be considered securities and would also need to register with the SEC.
Enjoy the app? Tell us what you think!


Disclosure:
TradeUP Securities Inc.: TradeUP Securities, Inc. ("TradeUP Securities") is a registered brokerage firm at SEC (CRD: 18483; SEC: 8-36754), a member of FINRA/SIPC and a member of DTC/NSCC, regulated by the US Securities and Exchange Commission and Financial Industry Regulatory Authority. Check the background on the firm on FINRA's BrokerCheck (https://brokercheck.finra.org).
Qualifying comments will be reviewed to select the winner of a share of free stock worth $10-15. In order to receive the free stock, the commentor must have a funded TradeUP account. The winner will be contacted via private message through our social media account for detailed information on claiming their reward.
Not Advice: The information contained in this material is for informational purposes only and is not intended to provide professional, investment or any other type of advice or recommendation, or to create a fiduciary relationship. TradeUP Securities does not make any representation or warranty, express or implied, regarding the accuracy, reliability, completeness, appropriateness or sufficiency for any purpose of any information included in this material. Certain information may have been provided by third-party sources and, while believed to be reliable, has not been independently verified by TradeUP Securities, and its accuracy or completeness cannot be guaranteed. You should not make an investment decision in reliance on this material, which is based on information that is likely to change without notice.
Not An Offer or Solicitation: Nothing contained in this material is, or should be construed as, an offer, a solicitation of an offer or an invitation to buy or sell any security or derivative, and it is not intended for distribution in any jurisdiction where such distribution would be contrary to law.
Risk of Loss. Securities and derivatives transactions involve risk of loss, including loss of principal. You should weigh potential benefits against the risks. Past performance is no guarantee of future results.
Not a Valuation:  This material is not an official valuation of any security or derivative mentioned herein.  Any pricing information provided is indicative only and does not reflect a level at which TradeUP Securities may be prepared to execute a trade; nor is it intended to demonstrate actual results that may be achieved by any transaction.
Electronic Trading:  Electronic trading poses unique risks to investors. System response and access times may vary due to market conditions, system performance, and other factors. Market volatility, volume, and system availability may delay account access and trade executions.
If you no longer wish to receive notifications like this, you can unsubscribe any time.