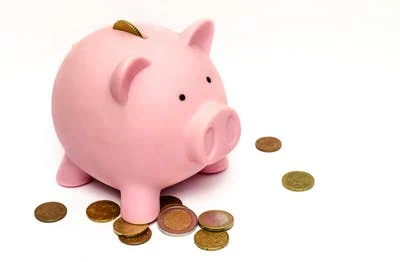 Aug 18, 2022




TradeUP Thursday




Latest news and bulletin updates
Market Trends

Dow Jones




33,981(-0.06%)

S&P 500




4,280(+0.03%)

NASDAQ




12,937(-0.02%)

(Opening price as of 08/18/2022 compared to last close)
Weekly Highlights




| | |
| --- | --- |
| #1 | Fed officials see interest rate hikes continuing but pace could slow |

| | |
| --- | --- |
| #2 | Bed Bath & Beyond shares fall after investor Ryan Cohen reveals intent to sell entire stake |

| | |
| --- | --- |
| #3 | Kohl's slumps after the retailer cut its full-year forecast |

| | |
| --- | --- |
| #4 | Tencent says Meituan stake-sale report is not accurate |
Share Your Thoughts:
US gas prices continue to fall
The national average for a gallon of regular gas broke $4 last week and stood at $3.943 on Tuesday. According to the American Automobile Association, gas prices vary significantly among different states. The graphic below shows average gas prices by state.

A decrease in gas prices would be beneficial for price stability, Fed policies, and global markets. The chart below shows gas prices over the past 5 years. Prior to the trend of inflation and price increases since last June, the average gas price for Americans was between $2-3 a gallon.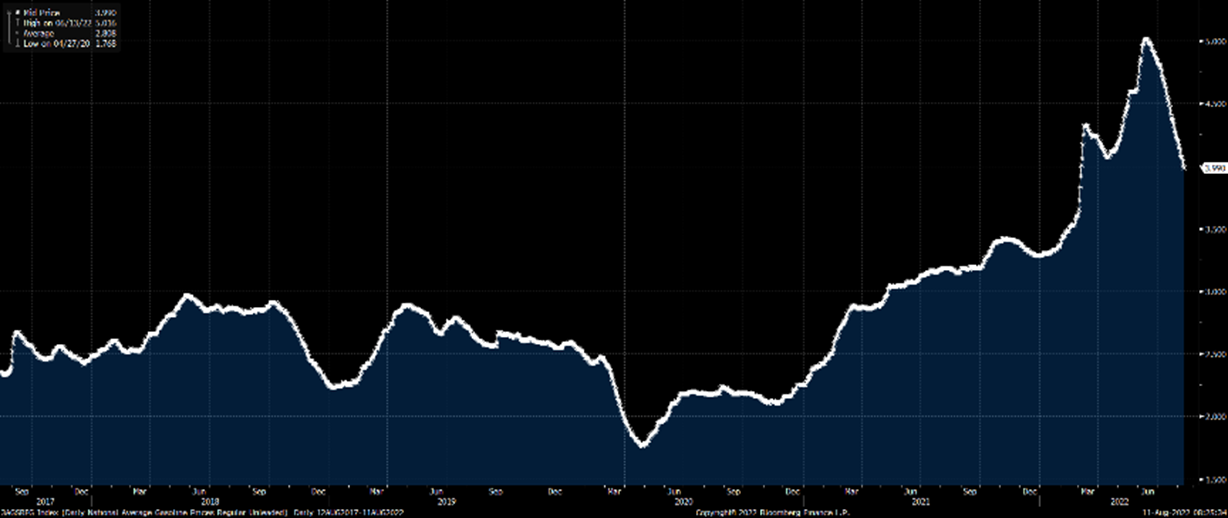 And if we put the WTI crude oil price on the same chart as gas price, we can see that both crude oil and gas prices moved in the same direction, especially before 2020.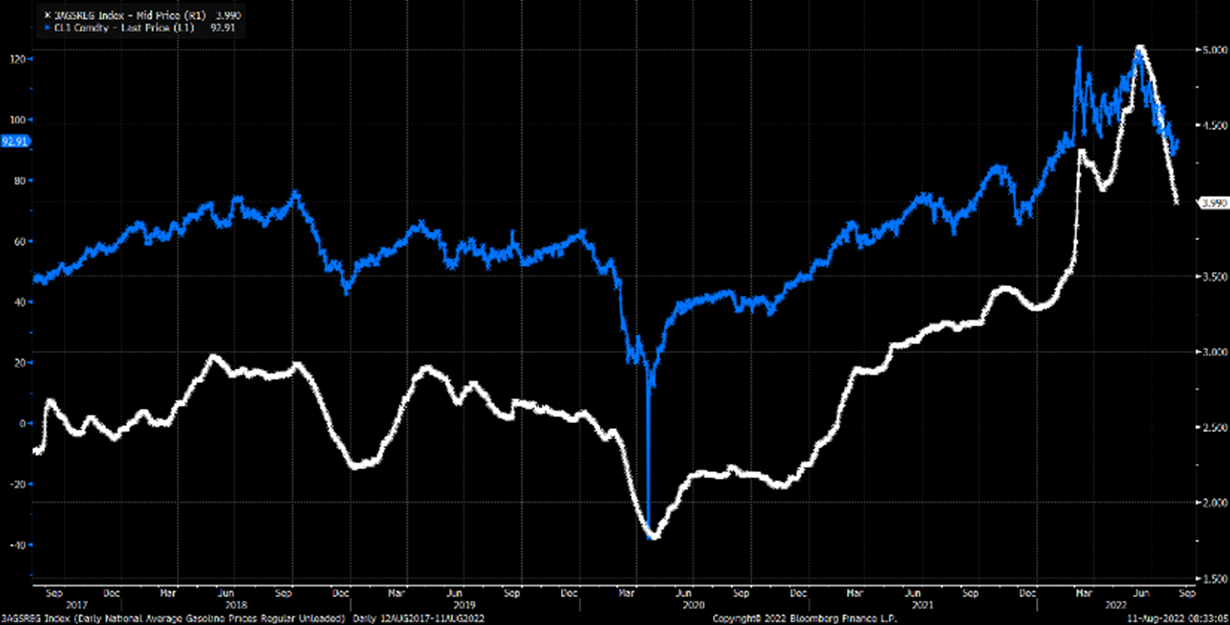 We can further analyze that:
A barrel of crude oil is 42 gallons, and the cost was between $50-75 in 2017 and 2018, while the corresponding gas price ranged between $2.3-3. This means that the cost of crude oil per gallon was $1.2-1.8, which was 50-60% of the retail gas price.
Currently, the cost of a 42-gallon barrel of crude oil is around $90, and the average cost per gallon is $2.14, which is 53% of the current average retail gas price.
Retail gas price is driven by three components: crude oil, transportation, and refinement. Retail gas prices have been increasing proportionately with rising crude oil prices, but transportation and refinement costs are inflating at a slower rate. Therefore, retail gas price inflation is outpacing overall costs, translating to a greater profit margin.
Hence the reason why oil manufacturers have generated record-high profits in the second season. Take Buffett's favorite, Chevron, as an example: its earnings per share doubled in Q2 compared to last year. While US demand for energy is almost the same as in 2019, Chevron has made more than 3x in profits. Last year, Biden ordered the FTC to investigate oil companies, and Democrats accused the oil industry of ripping off Americans as they increase retail prices while the cost is decreasing.
US inflation reached a new 40-year high in June at 9.1%. Many Americans disapprove of Biden's handling of soaring inflation and gas prices, indicating that economic security remains a high priority for the voting population. The chart below shows Biden's approval rate, which peaked last June.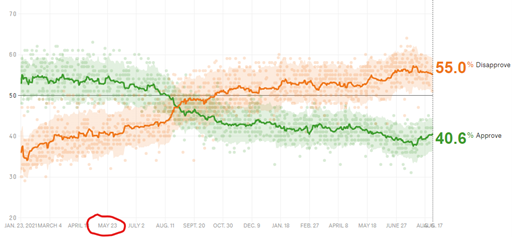 Last June was also when US inflation began to rise.

However, Biden's approval rate rose to 40% in July, up 2 percentage points after hitting the lowest level of his presidency in May and June. US inflation also eased in July with consumer prices rising by 8.5%, which was less than expected based on the previous trend.
Do you think retail gas prices will return to $3.5 in 3 months?

A.Yes

B.No

C.Hard to tell
Share your thoughts with us for a chance to win a free stock!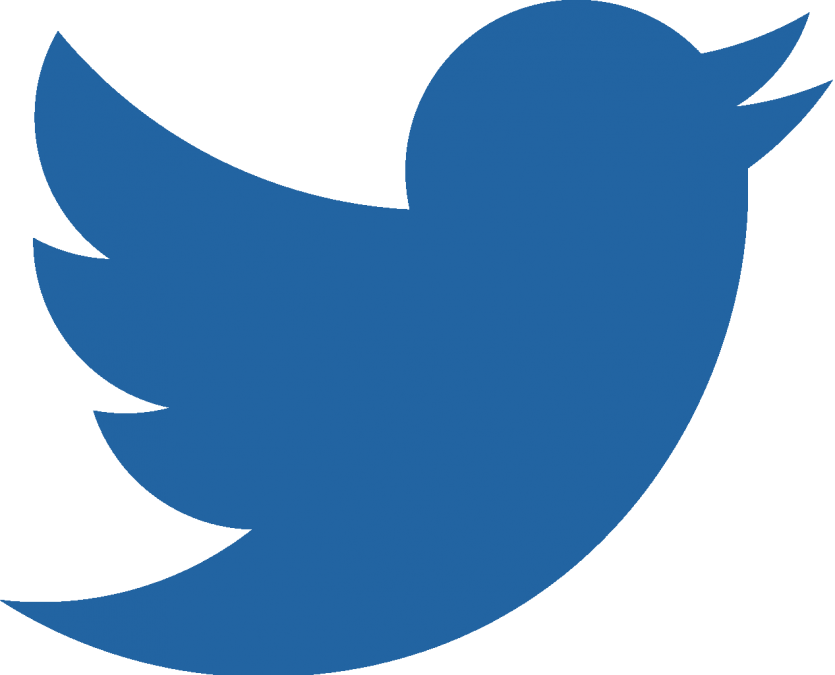 Inside Scoop
#1. Fed officials see interest rate hikes continuing but pace could slow

• Fed officials saw "little evidence" late last month that US inflation pressures were easing and steeled themselves to force the economy to slow down to control an ongoing surge in prices.

• Traders lowered the likelihood of a 75-bps hike by the Federal Reserve in September to less than 50%.
#2. Bed Bath & Beyond shares fall after investor Ryan Cohen reveals intent to sell entire stake

• Investor Ryan Cohen filed a notice of intent to sell 7.78 million shares of the houseware retailer.

• Cohen's prior purchases of call options had contributed to a buying spree in Bed Bath & Beyond, with the stock up in 15 of the past 16 sessions and increasing more than five-fold in value over that time.
#3. Kohl's slumps after the retailer cut its full-year forecast

• Kohl's again slashed its financial forecast for the year, saying its middle-income customers have been particularly pressured by higher inflation, putting a damper on sales of apparel, shoes, and other discretionary items.

• CEO Michelle Gass said in a statement that the company is adjusting its business plans and taking actions to reduce inventory and trim expenses "to account for a softer demand outlook."
#4. Tencent says Meituan stake-sale report is not accurate

• Tencent suffered its first ever drop in quarterly revenue, hit hard by stricter regulations on the gaming industry and a resurgence of Covid-19.

• Reuters reported that the social media giant intends to sell all or much of its $24 billion stake in Meituan. Strategy officer James Mitchell says the report "is not accurate."
Enjoy the app? Tell us what you think!


Disclosure:
TradeUP Securities Inc.: TradeUP Securities, Inc. ("TradeUP Securities") is a registered brokerage firm at SEC (CRD: 18483; SEC: 8-36754), a member of FINRA/SIPC and a member of DTC/NSCC, regulated by the US Securities and Exchange Commission and Financial Industry Regulatory Authority. Check the background on the firm on FINRA's BrokerCheck (https://brokercheck.finra.org).
Qualifying comments will be reviewed to select the winner of a share of free stock worth $10-15. In order to receive the free stock, the commentor must have a funded TradeUP account. The winner will be contacted via private message through our social media account for detailed information on claiming their reward.
Not Advice: The information contained in this material is for informational purposes only and is not intended to provide professional, investment or any other type of advice or recommendation, or to create a fiduciary relationship. TradeUP Securities does not make any representation or warranty, express or implied, regarding the accuracy, reliability, completeness, appropriateness or sufficiency for any purpose of any information included in this material. Certain information may have been provided by third-party sources and, while believed to be reliable, has not been independently verified by TradeUP Securities, and its accuracy or completeness cannot be guaranteed. You should not make an investment decision in reliance on this material, which is based on information that is likely to change without notice.
Not An Offer or Solicitation: Nothing contained in this material is, or should be construed as, an offer, a solicitation of an offer or an invitation to buy or sell any security or derivative, and it is not intended for distribution in any jurisdiction where such distribution would be contrary to law.
Risk of Loss. Securities and derivatives transactions involve risk of loss, including loss of principal. You should weigh potential benefits against the risks. Past performance is no guarantee of future results.
Not a Valuation:  This material is not an official valuation of any security or derivative mentioned herein.  Any pricing information provided is indicative only and does not reflect a level at which TradeUP Securities may be prepared to execute a trade; nor is it intended to demonstrate actual results that may be achieved by any transaction.
Electronic Trading:  Electronic trading poses unique risks to investors. System response and access times may vary due to market conditions, system performance, and other factors. Market volatility, volume, and system availability may delay account access and trade executions.
If you no longer wish to receive notifications like this, you can unsubscribe any time.