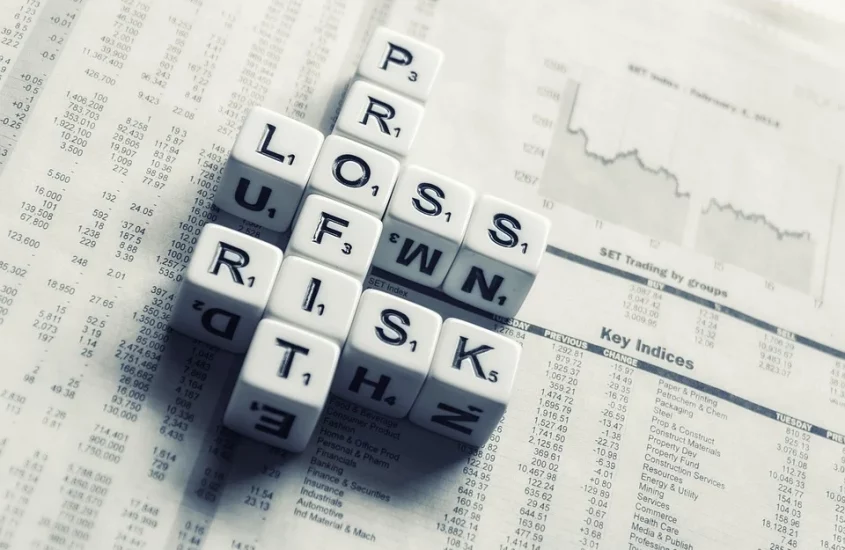 Aug 04, 2022




TradeUP Thursday




Latest news and bulletin updates
Market Trends

Dow Jones




32,805(-0.12%)

S&P 500




4,154(-0.03%)

NASDAQ




12,675(+0.04%)

(Opening price as of 08/04/2022 compared to last close)
Weekly Highlights




| | |
| --- | --- |
| #1 | Broad agreement amongst Fed Chiefs for more rate hikes |

| | |
| --- | --- |
| #2 | PCE Index, Fed's primary inflation measure, reaches 40-year high |

| | |
| --- | --- |
| #3 | Pinterest stock balloons as company receives new investment |

| | |
| --- | --- |
| #4 | Airbnb stock down despite second best-ever financial performance |
Share Your Thoughts:
WTI oil fell below $90 for the first time in over 6 months
WTI oil prices fell to $88 this morning, the first time since February. As the Russia-Ukraine war has entered its 6th month, the two countries are currently in a stalemate. According to NYT's report, the Russian army is in shortage of military personnel and weapons, and the Ukraine army is also suffering from heavy losses in combat. While there seems to be no end to the war in the short term, oil prices continuously fell over the past weeks. The chart below shows prices of WTI crude (white) and Brent crude (blue) in the past 12 months.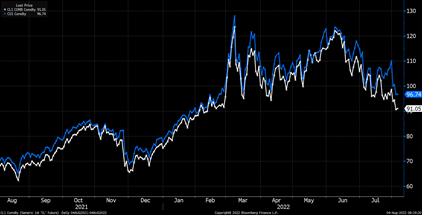 On the supply side:
Two of the 3 largest oil production countries, the US and Russia, have not updated their supply data since the beginning of the Russia-Ukraine war. According to data from Bloomberg, the US and OPEC have not significantly increased oil supply in the past 6 months. The chart below shows crude oil supply in the US (white) and in OPEC (blue). Hence the minor rise in output is not the reason for oil price decrease in the past weeks.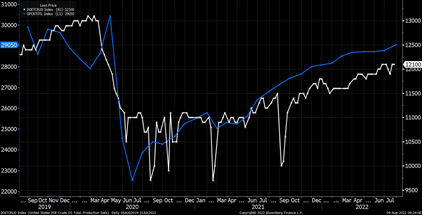 On the demand side:
According to data from Bloomberg, the five largest oil import countries in the world are China, the US, India, South Korea, and Japan, which account for 60% of total crude oil import. The chart below shows the trend for oil import in the 5 countries above.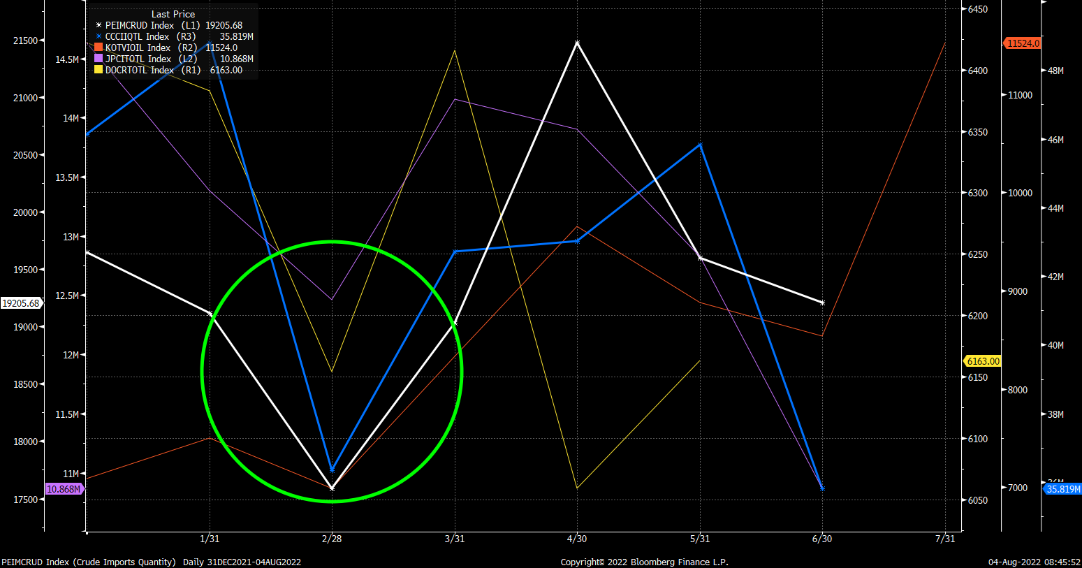 At the end of this February, import quantity hit bottom for the 5 countries (marked by the green circle). However, all parties significantly increased the quantity of oil imports in March in response to supply shortage concerns due to the Russia-Ukraine war. In May and June, the 5 countries reduced their oil import quantities and oil prices hit a recent record high on June 8th.

Oil price fluctuations have peaked and are stabilizing. The increase in oil prices in the beginning was driven by increased import demand due to fear over an oil shortage caused by the Russia-Ukraine war, but prices are now readjusting since countries already have sufficient supply. This change in demand is the main factor for decreasing oil prices, rather than weaking consumer demand.
Currently, US inflation has hit a 40-year high and is mainly driven by oil prices.
Do you think inflation will peak in 2 months?

A.Yes

B.No

C.Hard to tell
Share your thoughts with us for a chance to win a free stock!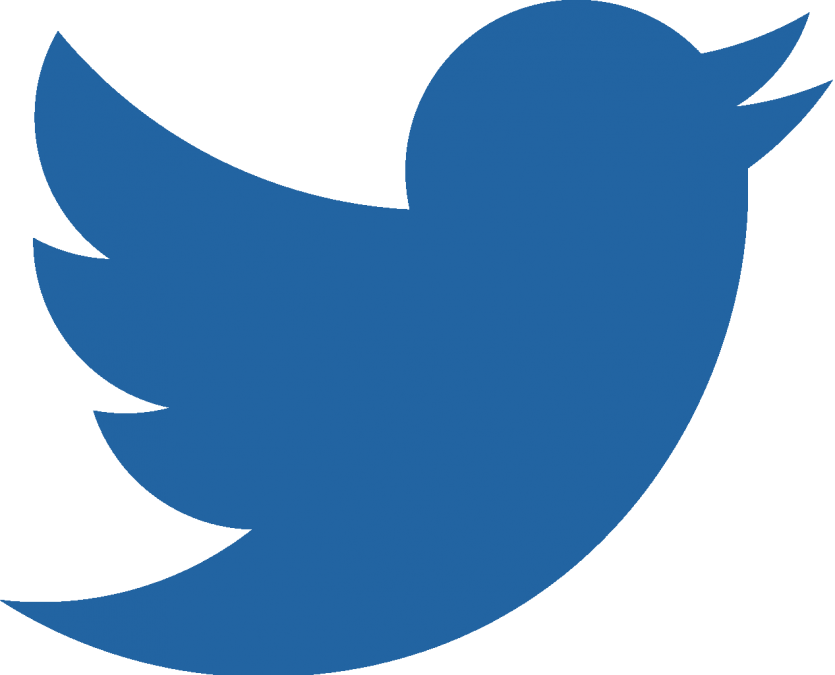 Inside Scoop
#1. Broad agreement amongst Fed Chiefs for more rate hikes

• Fed district presidents are in consensus on need for further interest rate hikes to combat against persistent inflation. Current targets point towards 3.5% by end of year, while presently rates sit at 2.25%-2.50%.

• According to Cleveland head Lorretta Mester, "several months" of declining inflation would be needed for a policy reversal. San Francisco head Mary Daly said Fed's efforts to slow consumer demand were "nowhere near done." St. Louis's James Louis expected another 1.5 percentage points ahead and no US recession.
#2. PCE Index, Fed's primary inflation measure, reaches 40-year high

• The personal consumer expenditure price index rose by 6.8% in June, up from 5.8% the month prior. Core PCE, which excludes volatile food and energy, increased to 4.8% year-over-year.

• Consecutive months of high inflation are hurting consumers. In June, inflation-adjusted spending rose by just 0.1%, while inflation-adjusted disposable income fell by 0.3%.
#3. Pinterest stock balloons as company receives new investment

• While Pinterest released a disappointing earnings report, its stock surged almost 20% aftermarket Monday after activist investment group Elliot Management announced it had acquired the biggest single stake in the company.

• Additionally, Pinterest lost fewer users than analysts' expectations. The company blames poor advertising demand for missing its financial guidance.
#4. Airbnb stock down despite second best-ever financial performance

• Despite revenue increasing 58% year-over-year and declaring its second most profitable quarter to date, Airbnb shares slumped 9% in aftermarket trading Tuesday. The company also announced a $2B stock buyback program.

• Investors may have been disappointed by the company missing its revenue guidance and its slowing Covid recovery — revenue grew by 70% year-over-year in Q1.
Enjoy the app? Tell us what you think!


Disclosure:
TradeUP Securities Inc.: TradeUP Securities, Inc. ("TradeUP Securities") is a registered brokerage firm at SEC (CRD: 18483; SEC: 8-36754), a member of FINRA/SIPC and a member of DTC/NSCC, regulated by the US Securities and Exchange Commission and Financial Industry Regulatory Authority. Check the background on the firm on FINRA's BrokerCheck (https://brokercheck.finra.org).
Qualifying comments will be reviewed to select the winner of a share of free stock worth $10-15. In order to receive the free stock, the commentor must have a funded TradeUP account. The winner will be contacted via private message through our social media account for detailed information on claiming their reward.
Not Advice: The information contained in this material is for informational purposes only and is not intended to provide professional, investment or any other type of advice or recommendation, or to create a fiduciary relationship. TradeUP Securities does not make any representation or warranty, express or implied, regarding the accuracy, reliability, completeness, appropriateness or sufficiency for any purpose of any information included in this material. Certain information may have been provided by third-party sources and, while believed to be reliable, has not been independently verified by TradeUP Securities, and its accuracy or completeness cannot be guaranteed. You should not make an investment decision in reliance on this material, which is based on information that is likely to change without notice.
Not An Offer or Solicitation: Nothing contained in this material is, or should be construed as, an offer, a solicitation of an offer or an invitation to buy or sell any security or derivative, and it is not intended for distribution in any jurisdiction where such distribution would be contrary to law.
Risk of Loss. Securities and derivatives transactions involve risk of loss, including loss of principal. You should weigh potential benefits against the risks. Past performance is no guarantee of future results.
Not a Valuation:  This material is not an official valuation of any security or derivative mentioned herein.  Any pricing information provided is indicative only and does not reflect a level at which TradeUP Securities may be prepared to execute a trade; nor is it intended to demonstrate actual results that may be achieved by any transaction.
Electronic Trading:  Electronic trading poses unique risks to investors. System response and access times may vary due to market conditions, system performance, and other factors. Market volatility, volume, and system availability may delay account access and trade executions.
If you no longer wish to receive notifications like this, you can unsubscribe any time.