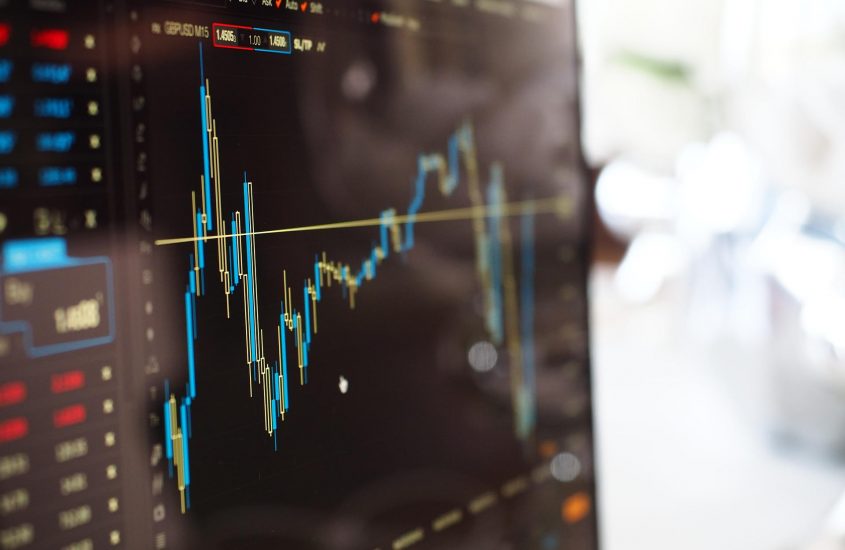 June 02, 2022




TradeUP Thursday




Latest news and bulletin updates
Market Trends

Dow Jones




32,809(+0.13%)

S&P 500




4,095(-0.11%)

NASDAQ




11,945(-0.41%)

(Opening price as of 06/02/2022 compared to last close)
Weekly Highlights




| | |
| --- | --- |
| #1 | Yellen says the administration is fighting inflation |

| | |
| --- | --- |
| #2 | OPEC+ will increase the size of its oil supply hikes by about 50% |

| | |
| --- | --- |
| #3 | Sheryl Sandberg to step down as Meta COO |

| | |
| --- | --- |
| #4 | Microsoft lowers fourth-quarter guidance |
Share Your Thoughts:
Gas prices are still rising, when do we expect to peak in commodity prices?
Gasoline prices have risen sharply heading into the peak summer driving season and show no signs of slowing down. The national average for unleaded gas hit another new high at$4.67 per gallon on Wednesday. Prices are up by 53% compared to last year.
While gas prices are climbing toward $5, some other commodities' prices, such as lumber price, have dropped drastically. The table shows how the commodities' prices compare to pre-pandemic levels.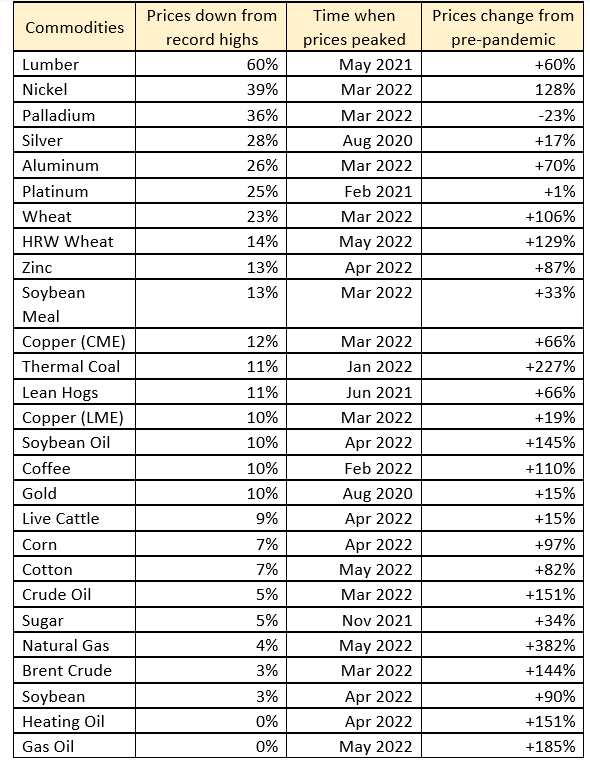 Overall, major commodities prices peaked in March, as prices on commodities like energy and grains have surged following the Russia-Ukraine war. While overall commodity prices have pulled back from its March peak, the prices remain higher than pre-pandemic levels. Lumber prices have come crashing down in a new sign of how rising interest rates are deflating real estate markets that boomed during the pandemic.
The prices of crude oil, natural gas, and certain agricultural products remains at an all-time high due to Russia-Ukraine war and Western sanctions. In addition, the rising cost of living is also a major reason why the inflation in April remained near the highest in 40 years. President Biden quoted Zelensky's words that ultimately this war "will only definitively end through diplomacy" in his rare comments in the New York Times. However, peace talks remain a long way to go as consensus has yet to be reached between Russia and Ukraine.
Oil prices rose to two-month highs amid EU sanctions and OPEC+ meeting.
How far can crude oil price go in 3 months?

A.<$100

B.$100-$130

C.>$130
Share your thoughts with us for a chance to win a free stock!

Inside Scoop
#1. Yellen says the administration is fighting inflation, admits she was wrong that it was 'transitory'
• Yellen listed efforts aimed at prescription drug costs, the budget deficit and oil production that could bring down prices running near a 40-year high.
• Biden met with Yellen and Fed Chairman Powell on Tuesday. Biden declared that he will continue to respect the Fed's independence as it addresses inflation, which he called his administration's top priority.
#2. OPEC+ will increase the size of its oil supply hikes by about 50%
• Meanwhile, EU leaders reached an agreement to ban 90% of Russian crude by the end of the year. The move would immediately hit 75% of Russian oil imports.
• President Joe Biden is likely to visit Saudi Arabia later this month as part of an international trip for the NATO and G7 meetings, according to people familiar with the matter, with record high US gas prices weighing on his party's political prospects.
#3. Sheryl Sandberg to step down as Meta COO
• Meta COO Sheryl Sandberg is stepping down from her long-time position with the Facebook parent company. Sandberg has helped guide Facebook from its early days starting in 2008 as the so-called "adult in the room," leading the company through a series of public relations crises that have put it in regulators' crosshairs.
• Meta's stock was down as much as 4% following the news. Earlier on Tuesday, Meta also announced the company will change its stock ticker to "META" on June 9th, following its plan from last October to rebrand and transition.
#4. Microsoft lowers fourth-quarter guidance

• Microsoft shares slid more than 3% on Thursday after the company lowered its fiscal fourth-quarter guidance, citing unfavorable foreign exchange rate movements.

• Microsoft announced that it expects to report between $51.94 billion and $52.74 billion in revenue for the quarter, while they previously forecasted fourth-quarter revenue to be in the range of $52.4 to $53.2 billion.


Disclosure:
TradeUP Securities Inc.: TradeUP Securities, Inc. ("TradeUP Securities") is a registered brokerage firm at SEC (CRD: 18483; SEC: 8-36754), a member of FINRA/SIPC and a member of DTC/NSCC, regulated by the US Securities and Exchange Commission and Financial Industry Regulatory Authority. Check the background on the firm on FINRA's BrokerCheck (https://brokercheck.finra.org).
Qualifying comments will be reviewed to select the winner of a share of free stock worth $10-15. In order to receive the free stock, the commentor must have a funded TradeUP account. The winner will be contacted via private message through our social media account for detailed information on claiming their reward.
Not Advice: The information contained in this material is for informational purposes only and is not intended to provide professional, investment or any other type of advice or recommendation, or to create a fiduciary relationship. TradeUP Securities does not make any representation or warranty, express or implied, regarding the accuracy, reliability, completeness, appropriateness or sufficiency for any purpose of any information included in this material. Certain information may have been provided by third-party sources and, while believed to be reliable, has not been independently verified by TradeUP Securities, and its accuracy or completeness cannot be guaranteed. You should not make an investment decision in reliance on this material, which is based on information that is likely to change without notice.
Not An Offer or Solicitation: Nothing contained in this material is, or should be construed as, an offer, a solicitation of an offer or an invitation to buy or sell any security or derivative, and it is not intended for distribution in any jurisdiction where such distribution would be contrary to law.
Risk of Loss. Securities and derivatives transactions involve risk of loss, including loss of principal. You should weigh potential benefits against the risks. Past performance is no guarantee of future results.
Not a Valuation:  This material is not an official valuation of any security or derivative mentioned herein.  Any pricing information provided is indicative only and does not reflect a level at which TradeUP Securities may be prepared to execute a trade; nor is it intended to demonstrate actual results that may be achieved by any transaction.
Electronic Trading:  Electronic trading poses unique risks to investors. System response and access times may vary due to market conditions, system performance, and other factors. Market volatility, volume, and system availability may delay account access and trade executions.
If you no longer wish to receive notifications like this, you can unsubscribe any time.