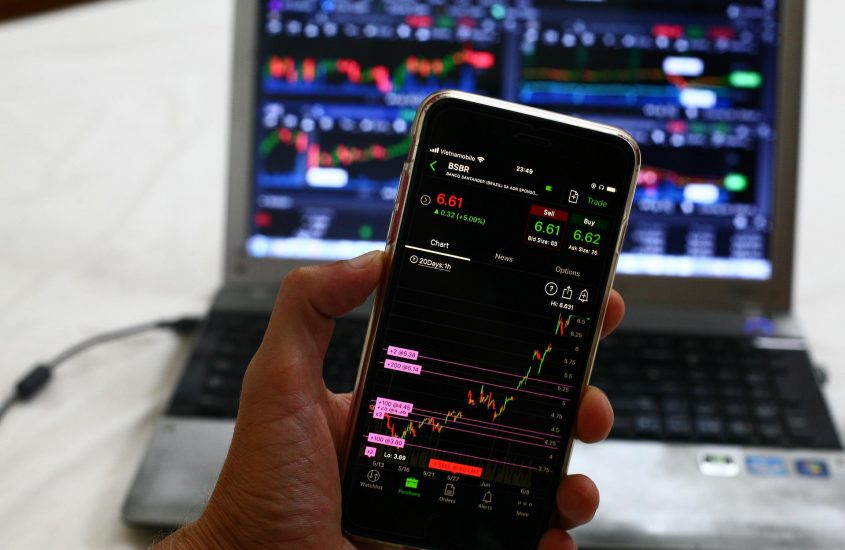 May 26, 2022




TradeUP Thursday




Latest news and bulletin updates
Market Trends

Dow Jones




32,248(+0.45%)

S&P 500




3,929(+0.22%)

NASDAQ




11,409(-0.22%)

(Opening price as of 05/26/2022 compared to last close)
Weekly Highlights




| | |
| --- | --- |
| #1 | Fed minutes point to more rate hikes that go further than the market anticipates |

| | |
| --- | --- |
| #2 | Snap stock tumbled 43% on Tue after a profit warning |

| | |
| --- | --- |
| #3 | Broadcom announced plans to buy VMware in $61 billion deal |

| | |
| --- | --- |
| #4 | Musk will commit more of his own wealth to finance his $44 billion Twitter deal |
Share Your Thoughts:
Stocks wavered over the brink of a bear market, a recession alarm is sounded?
Friday's sharp intraday drop to a low on the S&P 500 of 3,810 was a brush with a bear market. Recession fears cast shadow over business leaders and market participants. The textbook definition of a recession is a prolonged period of economic decline, beginning when the economy peaks and ending when it bottoms out, with macroeconomic signals such as weak consumption, increasing unemployment rate, decreasing industrial output, and greater risk of default.
The chart shows how the recession performed for the past 3 times in US.

The stock market forecasted the recession coming and ending in advance, which sent an alarm to the overall economy. S&P 500 started to decrease 3 months prior to the recession and started to rebound 3 months prior to a recovery.
The S&P 500 is down nearly 18% from its last record high in January and briefly fell into bear-market territory last Friday before paring losses.
Do you think a recession is coming?

A.Yes, recession within 3 months

B.No, not a signal for recession

C.Too early to call a recession
Share your thoughts with us for a chance to win a free stock!

Inside Scoop
#1. Fed minutes point to more rate hikes that go further than the market anticipates
• Fed minutes released Wednesday indicated that officials are prepared to move ahead with multiple 50 basis points interest rate increases. In addition, FOMC said policy may have to move past "neutral" and into "restrictive" territory.
• The minutes indicate that members are hopeful they can bring down inflation, but also concerned about financial stability risks.
#2. Snap stock tumbled 43% on Tue after a profit warning
• Snap will miss its forecast for revenue and profit in 2Q22, CEO Evan Speigel warned on Monday. The company will also slow hiring through the end of the year as it looks to manage expenses
• His message sent a chill across the digital advertising industry. Snap lost an astounding 43.1% of its market cap on Tuesday. Beyond that, Pinterest plunged 23.6%, Meta dropped 7.6%, Google lost 5% and Twitter sank 5.6%.
#3. Broadcom announced plans to buy VMware in $61 billion deal
• The deal would be one of the largest technology acquisitions of all time, behind Microsoft's pending $69 billion deal to purchase Activision Blizzard and Dell's $67 billion purchase of EMC in 2016.
• The deal would push Broadcom deeper into a software world. Under the deal, VMware shareholders will elect to receive either $142.50 in cash or 0.2520 Broadcom shares for each VMware share. Broadcom also will assume $8 billion of VMware's debt.
#4. Musk will commit more of his own wealth to finance his $44 billion Twitter deal
• An SEC filing showed Musk committed $33.5 billion in equity, up from the prior $27.25 billion.
• Musk no longer planned to rely on a margin loan backed by shares of Tesla, which are down by about a third since Twitter accepted his bid in late April.


Disclosure:
TradeUP Securities Inc.: TradeUP Securities, Inc. ("TradeUP Securities") is a registered brokerage firm at SEC (CRD: 18483; SEC: 8-36754), a member of FINRA/SIPC and a member of DTC/NSCC, regulated by the US Securities and Exchange Commission and Financial Industry Regulatory Authority. Check the background on the firm on FINRA's BrokerCheck (https://brokercheck.finra.org).
Qualifying comments will be reviewed to select the winner of a share of free stock worth $10-15. In order to receive the free stock, the commentor must have a funded TradeUP account. The winner will be contacted via private message through our social media account for detailed information on claiming their reward.
Not Advice: The information contained in this material is for informational purposes only and is not intended to provide professional, investment or any other type of advice or recommendation, or to create a fiduciary relationship. TradeUP Securities does not make any representation or warranty, express or implied, regarding the accuracy, reliability, completeness, appropriateness or sufficiency for any purpose of any information included in this material. Certain information may have been provided by third-party sources and, while believed to be reliable, has not been independently verified by TradeUP Securities, and its accuracy or completeness cannot be guaranteed. You should not make an investment decision in reliance on this material, which is based on information that is likely to change without notice.
Not An Offer or Solicitation: Nothing contained in this material is, or should be construed as, an offer, a solicitation of an offer or an invitation to buy or sell any security or derivative, and it is not intended for distribution in any jurisdiction where such distribution would be contrary to law.
Risk of Loss. Securities and derivatives transactions involve risk of loss, including loss of principal. You should weigh potential benefits against the risks. Past performance is no guarantee of future results.
Not a Valuation:  This material is not an official valuation of any security or derivative mentioned herein.  Any pricing information provided is indicative only and does not reflect a level at which TradeUP Securities may be prepared to execute a trade; nor is it intended to demonstrate actual results that may be achieved by any transaction.
Electronic Trading:  Electronic trading poses unique risks to investors. System response and access times may vary due to market conditions, system performance, and other factors. Market volatility, volume, and system availability may delay account access and trade executions.If you no longer wish to receive notifications like this, you can unsubscribe any time.