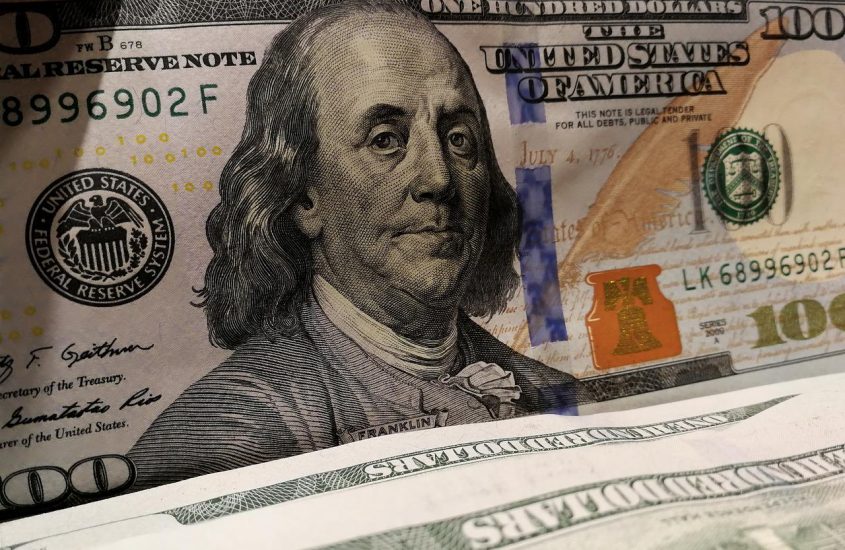 May 12, 2022




TradeUP Thursday




Latest news and bulletin updates
Market Trends

Dow Jones

  


31,699(-0.46%)

S&P 500 




3,903(-0.94%)

NASDAQ




11,199(-1.43%)

(Opening price as of 05/12/2022 compared to last close)
Weekly Highlights




| | |
| --- | --- |
| #1 | U.S. inflation slowed in Apr, but still higher than expected |

| | |
| --- | --- |
| #2 | Musk faces SEC investigation of Twitter takeover  |

| | |
| --- | --- |
| #3 | Coinbase warned its customers could be viewed as general unsecured creditors  |

| | |
| --- | --- |
| #4 | The lockup period for Rivian investors expired Sunday |
Share Your Thoughts:
Finding value in bitcoin, is now the time to buy the dip?
Bitcoin is off nearly 58% from its November peak. Many crypto holders who bought since last year are sitting on losses.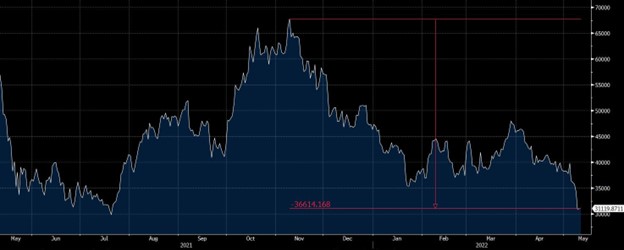 Meanwhile, bitcoin's correlation with big tech stocks increases to record. Bitcoin has tended to move in the same direction as the Nasdaq 100 index since the start of the pandemic. Since the beginning of this year, both bitcoin and big tech stocks plunged on concerns about the Fed's aggressive changes in monetary policy to cool down inflation.

Moreover, a recent crash in crypto is linked to the controversial stablecoin, TerraUSD. TerraUSD, a so-called stablecoin that's meant to maintain a $1 peg, plunged to as low as 26 cents Wed. Sister token LUNA has lost roughly 96% of its value in the past seven days. Project Terra is buying billions in bitcoin to support its stablecoin, and investors in bitcoin are in panic mode since TerraUSD and LUNA went into free fall.
US Treasury Secretary Yellen pushed for stablecoin regulation, while citing TerraUSD breakdown as risk of financial instability when testified on Tue. After a mass sell-off, Co-founder of TerraUSD, Do Kwon, said that a "recovery plan" was due for release. Things are getting cold in crypto, as investors concerning that bitcoin could be heading for an ice age rather than a "crypto winter".
What's your comfort zone for purchasing bitcoin?

A.<$25,000 

B.$25,000-$32,000

C.>$32,000
Share your thoughts with us for a chance to win a free stock !

Inside Scoop
#1. U.S. inflation slowed in Apr, but still higher than expected 
• U.S. CPI index, core CPI and MoM gains were all accelerated higher than expected. However, inflation has slowed for the first time since Aug. Sector-wise, prices of used cars and apparel decreased in Apr, suggesting a slowdown in U.S. consumption. 
• Oil price was still the main drive for U.S. inflation. Oil price was driven by 3 factors: U.S. supply, the Russia-Ukraine war, and increasing demand for travel.
#2.  Musk faces SEC investigation of Twitter takeover
• Meanwhile, Musk said he would reverse Twitter's ban of former President Trump, and Twitter co-founder Jack Dorsey said he agreed. Earlier on Mon, Musk gave his support to a new EU law aimed at protecting social media users from harmful content after he met with an EU official.
• Apollo was reportedly in talks to lead a preferred financing for Musk's proposed buyout deal. It is reported that funds are being offered a chance to participate in the buyout deal with investments as small as $5m.
#3. Coinbase warned its customers could be viewed as general unsecured creditors 
• Coinbase's filing to SEC included a new risk factor disclosure. Custody coins could be subject to bankruptcy proceedings. By contrast, securities held for customers by a registered brokerage are legally segregated from the assets of the brokerage, meaning they can't be touched in bankruptcy proceedings.
•  Coinbase plunged to record lows as crypto crackdown deepened. The platform held $256bn in cash and cryptocurrencies for its customers at the end of the first quarter.
#4. The lockup period for Rivian investors expired Sunday
• Rivian sank 21% on Mon as Ford sold about 8% of its stake in Rivian at a discount. Rivian was the largest IPO in U.S. last year and now its shares are down 87% from Nov peak.
• Ford owned 11% of the EV startup before the sale, while Amazon has 18% stake in Rivian. Amazon took a $7.6bn loss on its stake in Rivian in its earnings report last month. Amazon shares fell over 14% after its earnings report and led a 4% decline in Nasdaq.


Disclosure:
TradeUP Securities Inc.: TradeUP Securities, Inc. ("TradeUP Securities") is a registered brokerage firm at SEC (CRD: 18483; SEC: 8-36754), a member of FINRA/SIPC and a member of DTC/NSCC, regulated by the US Securities and Exchange Commission and Financial Industry Regulatory Authority. Check the background on the firm on FINRA's BrokerCheck (https://brokercheck.finra.org).
Qualifying comments will be reviewed to select the winner of a share of free stock worth $10-15. In order to receive the free stock, the commentor must have a funded TradeUP account. The winner will be contacted via private message through our social media account for detailed information on claiming their reward.
Not Advice: The information contained in this material is for informational purposes only and is not intended to provide professional, investment or any other type of advice or recommendation, or to create a fiduciary relationship. TradeUP Securities does not make any representation or warranty, express or implied, regarding the accuracy, reliability, completeness, appropriateness or sufficiency for any purpose of any information included in this material. Certain information may have been provided by third-party sources and, while believed to be reliable, has not been independently verified by TradeUP Securities, and its accuracy or completeness cannot be guaranteed. You should not make an investment decision in reliance on this material, which is based on information that is likely to change without notice.
Not An Offer or Solicitation: Nothing contained in this material is, or should be construed as, an offer, a solicitation of an offer or an invitation to buy or sell any security or derivative, and it is not intended for distribution in any jurisdiction where such distribution would be contrary to law.
Risk of Loss. Securities and derivatives transactions involve risk of loss, including loss of principal. You should weigh potential benefits against the risks. Past performance is no guarantee of future results.
Not a Valuation:  This material is not an official valuation of any security or derivative mentioned herein.  Any pricing information provided is indicative only and does not reflect a level at which TradeUP Securities may be prepared to execute a trade; nor is it intended to demonstrate actual results that may be achieved by any transaction.
Electronic Trading:  Electronic trading poses unique risks to investors. System response and access times may vary due to market conditions, system performance, and other factors. Market volatility, volume, and system availability may delay account access and trade executions.
If you no longer wish to receive notifications like this, you can unsubscribe any time.