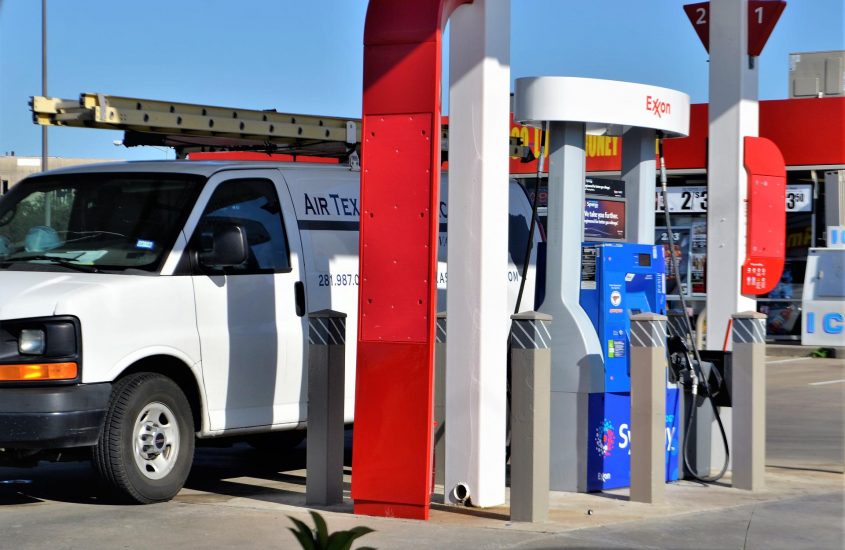 May 19, 2022




TradeUP Thursday




Latest news and bulletin updates
Market Trends

Dow Jones




31,262(-0.97%)

S&P 500




4,051(-0.78%)

NASDAQ




11,364(-0.47%)

(Opening price as of 05/19/2022 compared to last close)
Weekly Highlights




| | |
| --- | --- |
| #1 | Powell signals that Fed is likely to hike rates by 50 bps in June and July |

| | |
| --- | --- |
| #2 | Musk says Twitter deal at lower price 'not out of the question' |

| | |
| --- | --- |
| #3 | Retail gas prices top $4 a gallon in all US states for the first time |

| | |
| --- | --- |
| #4 | Yellen presses Biden for China tariff reductions |
Share Your Thoughts:
Walmart and Target shares crashed after 1Q22 earnings, a recession call?

Both retailers posted lower-than-expected profit, hit by supply chain issues, significant jump in fuel prices, elevated labor costs and aggressive inventory levels. Both Walmart and Target shares suffered the biggest drop since 1987, as the latest set of disappointing earnings raised investors' fears of a recession.
Both companies are victims of US inflation which stays at 4-decade high, as well as China tariffs. Biden administration had only reinstated tariff exclusion on 352 Chinese products, compared to Trump's tariff exclusion on 2,230 Chinese products. Retailers like Walmart and Target didn't use soaring inflation rates and increasing cost pressure as an excuse to raise prices. Companies knew that consumers expect higher prices right now, but they tried to keep price stable to avoid unnecessary investigations.
Meanwhile, the wealth gap widens as the pandemic deepens economic inequality. Higher costs are pushing consumers, particularly those at the lower end, toward lower-priced and discount products, which in turn has a negative impact on profitability of retailers such as Walmart and Target.
The Commerce Department said Tuesday that retail sales rose a seasonally adjusted 0.9% last month compared with March.
While consumers have continued to spend more, they are getting less due to rapidly rising prices. Is the US economy heading into a recession?
What's your guess on month-over-month change in retail sales in May?

A.<0.5%

B.0.5%-0.9%

C.>0.9%
Share your thoughts with us for a chance to win a free stock!

Inside Scoop
#1. Powell signals that Fed is likely to hike rates by 50 bps in June and July
• Powell said that Fed will not hesitate to keep raising rates until inflation comes down. He repeated his commitment to getting inflation closer to the Fed's 2% target, even if it requires pushing up unemployment.
• Markets expect 50-bps Fed rate hike in June and July, however only 60% of market participants expect 50-bps rate hike in September. Investors find reassurance as Powell offers certainty on monetary policies in next two months.
#2. Musk asks for clarity on Twitter fake accounts for deal to move forward and says Twitter deal at lower price 'not out of the question'
• Musk said that Twitter's CEO had refused to show proof that less than 5% of Twitter's accounts were fake. Twitter said it is committed to completing the transaction on the agreed price and terms as promptly as practicable.
• Twitter has lost all its gains since Musk disclosed his stake. The company is now valued at a little over $29bn, or roughly $15bn below Musk's agreed upon purchase price. Musk would be on the hook for a $1bn breakup fee if he abandons the deal.
#3. Retail gas prices top $4 a gallon in all US states for the first time
• The average per-gallon price reached a new record of $4.52 on Tuesday, the American Automobile Association group said. Drivers in California are facing the biggest hit, with prices in the Golden State reaching a new record of $6.02 per gallon. Recent surge in gas prices is due to volatile crude oil prices and higher demand in summer.
• The Biden administration plans to ease sanctions on Venezuelan oil. US is also considering proposing that European countries impose a tariff on Russian oil to allay concerns about the security of supply and surging oil prices.
#4. Yellen confirms she is pressing Biden for some China tariff reductions
• Yellen on Wednesday criticized the Trump administration's tariffs on China and voiced support for lifting some of the levies, in part to ease very high inflation pressuring the US economy. However, she signaled that no decision has been made on this issue and hinted at potential disagreement among US officials.
• Biden heads to Asia this week for the first time since taking office. On the trip, Biden will visit Japan and South Korea, and will also shore up a partnership with Australia and India and formally unveil an economic initiative designed to bolster trade and investment with the region.


Disclosure:
TradeUP Securities Inc.: TradeUP Securities, Inc. ("TradeUP Securities") is a registered brokerage firm at SEC (CRD: 18483; SEC: 8-36754), a member of FINRA/SIPC and a member of DTC/NSCC, regulated by the US Securities and Exchange Commission and Financial Industry Regulatory Authority. Check the background on the firm on FINRA's BrokerCheck (https://brokercheck.finra.org).
Qualifying comments will be reviewed to select the winner of a share of free stock worth $10-15. In order to receive the free stock, the commentor must have a funded TradeUP account. The winner will be contacted via private message through our social media account for detailed information on claiming their reward.
Not Advice: The information contained in this material is for informational purposes only and is not intended to provide professional, investment or any other type of advice or recommendation, or to create a fiduciary relationship. TradeUP Securities does not make any representation or warranty, express or implied, regarding the accuracy, reliability, completeness, appropriateness or sufficiency for any purpose of any information included in this material. Certain information may have been provided by third-party sources and, while believed to be reliable, has not been independently verified by TradeUP Securities, and its accuracy or completeness cannot be guaranteed. You should not make an investment decision in reliance on this material, which is based on information that is likely to change without notice.
Not An Offer or Solicitation: Nothing contained in this material is, or should be construed as, an offer, a solicitation of an offer or an invitation to buy or sell any security or derivative, and it is not intended for distribution in any jurisdiction where such distribution would be contrary to law.
Risk of Loss. Securities and derivatives transactions involve risk of loss, including loss of principal. You should weigh potential benefits against the risks. Past performance is no guarantee of future results.
Not a Valuation:  This material is not an official valuation of any security or derivative mentioned herein.  Any pricing information provided is indicative only and does not reflect a level at which TradeUP Securities may be prepared to execute a trade; nor is it intended to demonstrate actual results that may be achieved by any transaction.
Electronic Trading:  Electronic trading poses unique risks to investors. System response and access times may vary due to market conditions, system performance, and other factors. Market volatility, volume, and system availability may delay account access and trade executions.
If you no longer wish to receive notifications like this, you can unsubscribe any time.