Tradeup Thursday
Dec 22, 2022
| | | |
| --- | --- | --- |
| | Latest News and Bulletin Updates | |
MARKET TRENDS
(Opening price as of 12/22/2022 compared to last close)
Weekly Highlights

#1
Microsoft prepares to go to battle with FTC over Activision deal
#2
Sam Bankman-Fried arrives in US to face federal fraud charges
#3
Nike stock surges as its biggest problem may be vanishing
#4
Senators agree to move forward on omnibus spending bill
Share your thoughts

Tesla stock down 38% since Musk took over Twitter

Tesla shares have fallen 38% since October 27th, when CEO Elon Musk bought Twitter and appointed himself "Chief Twit" of the social media platform. Musk sold billions of dollars' worth of his Tesla holdings to finance the Twitter takeover. The graph below shows the stock price of Tesla since buying Twitter. The red circles indicate the dates he sold Tesla shares, and the green circles indicate the stock price before the sales.

Musk has now sold $7.5 billion in the past 2 months and dragged down Tesla's market cap by $274 billion in the process. The table below shows details of his stock sales.

The stocks sold by Musk do not account for a large proportion of the daily market transaction, and his sales should have little influence on the overall stock price. However, as he continues to concentrate more on his social media business and regularly post incendiary tweets aimed at people who hold center-to-left political values, Tesla shares have been sold off during the past 2 months. Moreover, he has pledged his shares to finance the takeover deal. As more shares are sold off and the stock price falls, his bank would need to initiate margin calls and sell off even more shares.


This week, Musk initiated a poll on Twitter and decided to step down as Twitter's CEO. Tesla was also reported to freeze hiring and lay off employees next quarter.

Where do you see Tesla stock price by the end of 2022?

A. $110-$140

B. $140-$160

C. Above $160
| | | |
| --- | --- | --- |
| | Share your thoughts with us for a chance to win a free stock! | |
Inside Scoop
#1. Microsoft prepares to go to battle with FTC over Activision deal
• Microsoft has signaled its plans to challenge the Federal Trade Commission's lawsuit to block its $75 billion deal for Activision Blizzard Inc., and is expected to argue that it is an underdog in videogame development.
• Meanwhile, a group of 10 gamers filed a private antitrust lawsuit in California on Tuesday to attempt to stop Microsoft from buying Activision Blizzard.

#2. Sam Bankman-Fried arrives in US to face federal fraud charges
• SBF landed in New York on Wednesday evening to face multiple federal wire fraud, securities fraud, and money laundering charges.
• Two executives connected to FTX, the bankrupt cryptocurrency exchange once valued at $32 billion, have pleaded guilty to criminal charges.

#3. Nike stock surges as its biggest problem may be vanishing
• Shares of the apparel and footwear giant surged 12% on Wednesday as better-than-expected sales and earnings quieted concerns that Nike would be hammered by sluggish global economic growth.
• Nike is also getting its inventory bloat under control, much to the delight of investors.

#4. Senators agree to move forward on omnibus spending bill
• The $1.65 trillion omnibus spending bill released on Tuesday, which would fund the federal government through September, includes a range of provisions of potential significance to companies and executives.
| | | |
| --- | --- | --- |
| | Enjoy the App? Tell us what you think | |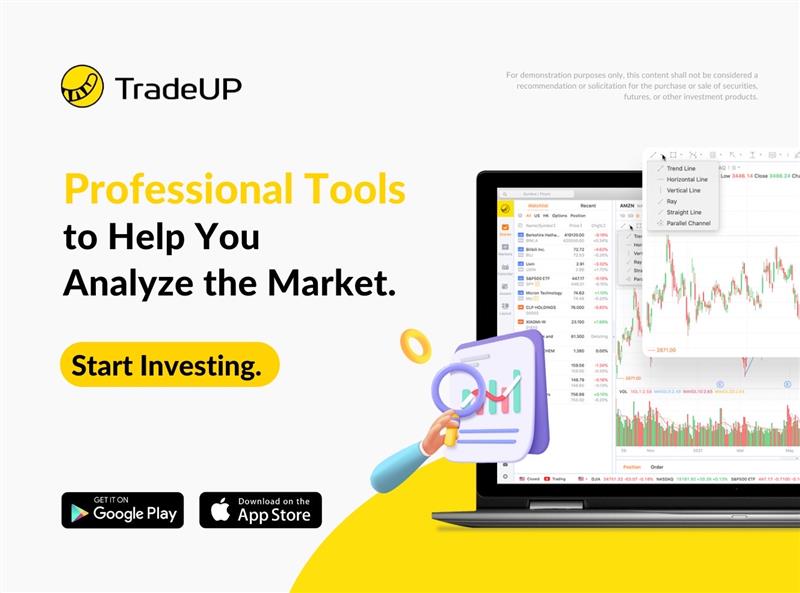 TradeUP is a trading platform offered by TradeUP Inc. Securities products and brokerage services available through the TradeUP App are offered by TradeUP Securities, Inc.

TradeUP Securities, Inc. is a member of FINRA/SIPC and regulated by the US Securities and Exchange Commission. Registered office: 101 EISENHOWER PARKWAY ROSELAND, NJ 07068 UNITED STATES. For further information about TradeUP Securities, Inc.,see FINRA BrokerCheck. For further information about SIPC insurance coverage for accounts at TradeUP Securities, Inc., see www.sipc.org or request an explanatory brochure from TradeUP Securities, Inc..

All investments involve risk, including possible loss of principal. Past performance of a security, market, or financial product does not guarantee future results. Electronic trading poses unique risk to investors. System response and access times may vary due to market conditions, system performance, and other factors. Market volatility, volume, and system availability may delay account access and trade executions.

No content on the website shall be considered a recommendation or solicitation for the purchase or sale of securities, futures or other investment products. All information and data on the website are for reference only and no historical data shall be considered as the basis for judging future trends.

Please read through our Terms and Conditions before investing.

If you no longer wish to receive notifications like this, you can unsubscribe any time.