How To Analyze Stocks Using the TradeUP App's Tools and Features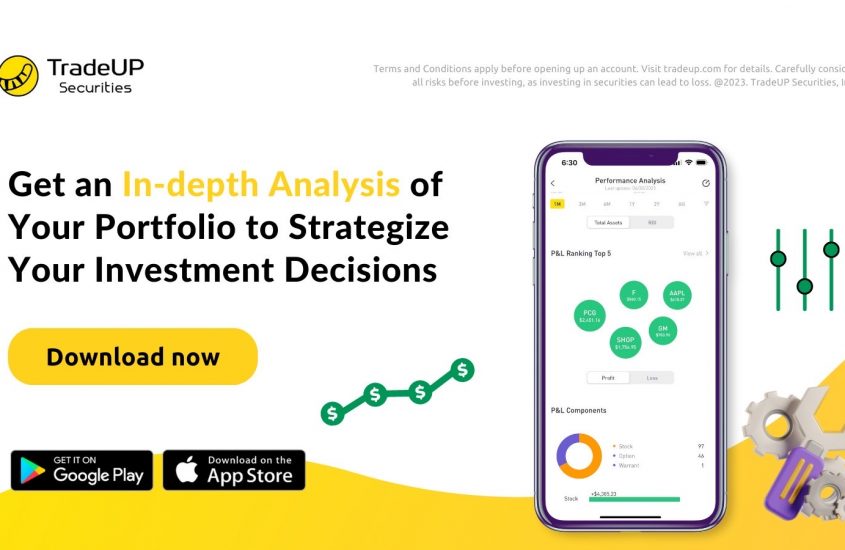 Dipping your toes into the vast ocean of stock trading can feel overwhelming, especially with the myriad of charts, numbers, and technical terms. However, with the right tools and insights, it becomes a thrilling adventure.
TradeUP is a feature-rich app available on mobile and desktop that is here to revolutionize your trading experience. Let's delve into how our app makes stock analysis not only simpler but also incredibly efficient. Download TradeUP to start building your portfolio and start trading up today.
Discover the Power of Integrated Charts
For every investor, charts are the backbone of stock analysis. Whether you're examining the broader market trend or zeroing in on a specific stock's performance, our charts give you the comprehensive view you need. TradeUP offers powerful and interactive charts complete with real-time quotes, adjustable indicators, and customizable views to make keeping track of your portfolio a breeze.
Stay Updated with Advanced Quotes
One major advantage of online trading is the immediacy of information, and we've taken it up a notch. With real-time prices on a broader range of bids and asks, our advanced quotes ensure you never miss a beat. The added depth chart lets you quickly identify supply and demand, letting you make decisions based on the market's pulse.
Screening Made Easy
Identifying potential winning stocks is much simpler when you have the right screening tools. Our online trading platform boasts user-friendly screeners that filter stocks based on your specific criteria. Whether you're looking for stocks within a particular sector, price range, or performance metric, TradeUP's screeners have got you covered.
In-Depth Analysis at Your Fingertips
For those who want to delve deeper into stock analytics, our mobile and desktop app offers tools tailored for you. From the intricate patterns of candlestick charts to the insights provided by in-depth analytics and indicators, every seasoned trader will find the resources they need to make informed decisions.
Stay Sharp with Paper Trading
Experience, they say, is the best teacher. With TradeUP's paper trading feature, you can hone your skills without the risks. Equip yourself with virtual cash and simulate trades based on live market data. This feature is perfect for beginners to understand the nuances of stock trading or for seasoned traders looking to test out new strategies.
Taking the plunge into stock trading has never been this streamlined. With TradeUP's cutting-edge mobile app trading platform, you're not just trading; you're elevating your trading game. Ready to embark on this exhilarating journey? Download TradeUP today and witness a transformation in your stock trading endeavors.
Disclaimer: The information contained in this material is for informational purposes only and is not intended to provide professional, investment, or any other type of advice or recommendation, nor does it create a fiduciary relationship. TradeUP does not make any representation or warranty, express or implied, regarding the accuracy, reliability, completeness, appropriateness, or sufficiency of any information included in this material. Certain information may have been provided by third-party sources, and while believed to be reliable, it has not been independently verified by TradeUP. Any investment decision should not be made solely in reliance on this material, as the information is subject to change without notice. Securities and derivatives transactions involve the risk of loss, including loss of principal. Past performance is no guarantee of future results. It is important to carefully consider the potential benefits and risks involved before making any investment decisions.