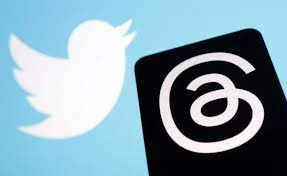 | | |
| --- | --- |
| | TradeUP Thursday |
• Will the Fed hike interest rates amid growing expectations?
• What features does Meta's Twitter-like Threads app offer to users?
• What are the key features and benefits of investing in ETFs?
Dow Jones
S&P 500
Nasdaq
34,043.82

(-0.71%)

4408.14

(-0.87%)

13,656.38

(-0.98%)

Opening price as of 07/06/2023 compared to last close
IN THE HEADLINES
Fed Rate Hike Expectations
The Federal Reserve plans to raise interest rates again this year, as revealed in its recent meeting notes. They see a 60% probability of a rate hike in 2023 and believe a recession is likely but not severe. Concerns about inflation persist. Stock markets declined after the announcement. The current target federal funds rate is 5% to 5.25%, the highest in over a decade. The next FOMC meeting with expectations of another rate hike. Yields on Treasury notes have surged. Read more

Meta's Release of Twitter-like Threads
Threads allows users to post messages, interact with others' posts, and quickly build follower bases by following the same accounts as on Instagram. Some users see it as a potential rival to Twitter. The app is available for download on the Apple App Store and Google Play store. However, privacy concerns have been raised due to the extensive personal data collection by Threads. Twitter has faced issues with hate speech and user harassment, potentially making Threads an attractive alternative for some users. Read more

Janet Yellen's Visit to China
Treasury Secretary Janet Yellen is visiting China to address the strained economic relationship between the two countries. She aims to defend export controls and tariffs while assuring China that the measures are not meant to harm its economy. Yellen will discuss U.S. efforts to reduce reliance on China and promote cooperation in trade and investment. Read more
TradeUP TIDBITS

The Role of the Stock Market in the Economy

As the saying goes, "as the stock market goes, so goes the economy." The performance of the stock market often acts as a barometer for overall economic health. A rising stock market generally signals positive investor sentiment, consumer confidence, and economic growth. On the other hand, a declining stock market may indicate economic uncertainty or potential downturns.
Policymakers closely monitor the stock market as an important economic indicator, making efforts to intervene if necessary to stabilize market conditions. If the stock market is showing positive signs, it's generally the perfect time to trade often with the best mobile trading platforms available to the everyday investor.

Read more on our blog
INVESTOR TIPS

Exchange-traded Funds (ETFs)
ETFs are packaged portfolios with a finite or limited number of available shares, which operate similarly to closed-end funds with minor technical differences. While they allow for portfolio diversification similar to mutual funds, they are different in that they come with real-time (intraday) pricing and require lower (sometimes zero) investment minimums and brokerage commissions. They are tradeable all day long on stock exchanges at bid and ask prices—the same way regular corporate stocks are traded each day—and they typically track an index.


• They offer real-time pricing and require lower investment minimums and brokerage commissions compared to mutual funds.
• ETFs typically track an index and provide portfolio diversification.
• The cost of owning an ETF includes expense ratios, brokerage commissions, premiums/discounts, and taxes.
• ETFs are available in various types, such as stock ETFs, bond ETFs, and real estate ETFs.
• When trading ETFs, investors buy or sell shares of the fund itself, not its underlying assets or securities.
It's Time to Vote!
Share your thoughts with us on social media!

This week's topic is: Which factor do you believe has a stronger impact on the economy?
A. The performance of the stock market
B. Decisions made by policy makers
| | | |
| --- | --- | --- |
| | Enjoy the app? Tell us what you think! | |
TradeUP Securities, Inc. is a member of FINRA/SIPC and regulated by the US Securities and Exchange Commission. Registered office: 437 Madison Ave 27th Floor New York, NY, 10022. For further information about TradeUP Securities, Inc., see FINRA BrokerCheck. For further information about SIPC insurance coverage for accounts at TradeUP Securities, Inc., see www.sipc.org or request an explanatory brochure from TradeUP Securities, Inc..

All investments involve risk, including possible loss of principal. Past performance of a security, market, or financial product does not guarantee future results. Electronic trading poses unique risk to investors. System response and access times may vary due to market conditions, system performance, and other factors. Market volatility, volume, and system availability may delay account access and trade executions.

No content on the website shall be considered a recommendation or solicitation for the purchase or sale of securities, futures or other investment products. All information and data on the website are for reference only and no historical data shall be considered as the basis for judging future trends.

Please read through our Terms and Conditions before investing.

If you no longer wish to receive notifications like this, you can unsubscribe any time.