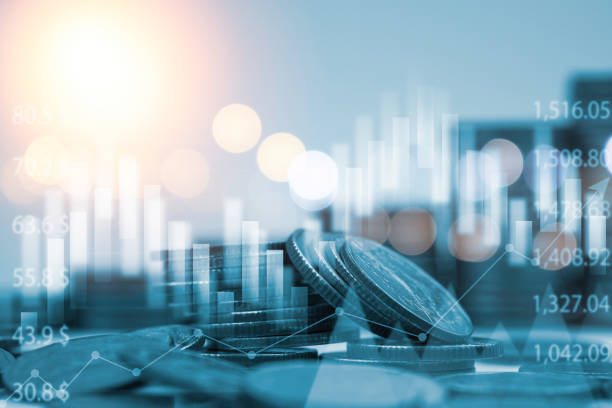 July 21, 2022




TradeUP Thursday




Latest news and bulletin updates
Market Trends

Dow Jones




31,826(-0.25%)

S&P 500




3,935(-0.10%)

NASDAQ




11,914(+0.14%)

(Opening price as of 07/21/2022 compared to last close)
Weekly Highlights




| | |
| --- | --- |
| #1 | Tesla releases Q2 report; sold 75% of bitcoin holdings |

| | |
| --- | --- |
| #2 | ECB raises rate by 50bps, the first increase in 11 years |

| | |
| --- | --- |
| #3 | Netflix earnings beat the market; lost fewer subscribers than estimated in Q2 |

| | |
| --- | --- |
| #4 | China reduces US debt to under $1 trillion, lowest since 2010 |
Share Your Thoughts:
Livestreaming e-commerce: a path to the future or just a fad?

New Oriental has become China's latest livestreaming sensation in June, and its stocks in HK and the US have surged as much as 421% and 76% since this June.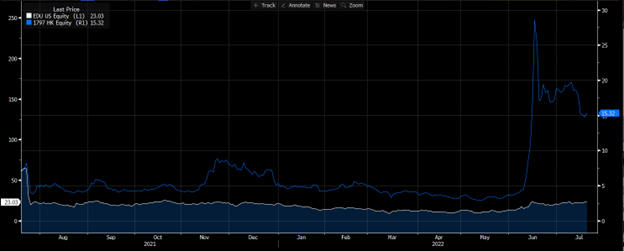 Livestreaming e-commerce in China boomed even before the start of the COVID-19 pandemic. It helped millions of Chinese enterprises survive the pandemic as China's Covid lockdown policy presented challenges to the overall economy. The scale of live streaming anchors has grown at an unprecedented rate, from ordinary people to KOLs, from celebrities to CEOs, and even government officials. According to iiMedia's report, the number of online live broadcasting users in China has reached 638 million as of June 2021, an 47.2% increase since the same period in 2020, accounting for 63.1% of total netizens. The photographs below show different groups of live stream anchors: ordinary people, CEOs and enterprises (New Oriental), and government officials (from 5 different countries).

How does it work?
The nature of livestreaming is to introduce and advertise a company's products to the public. Livestreaming in China originated from e-commerce platforms in 2015 as mobile livestreaming rapidly grew. Taobao (BABA) introduced and integrated livestreaming into its e-commerce platform in early 2016. Its explosion came in 2019, as multiple KOLs, such as Li Jiaqi and Viya, joined the industry. The graph below shows the market size of livestream e-commerce in China from Statista.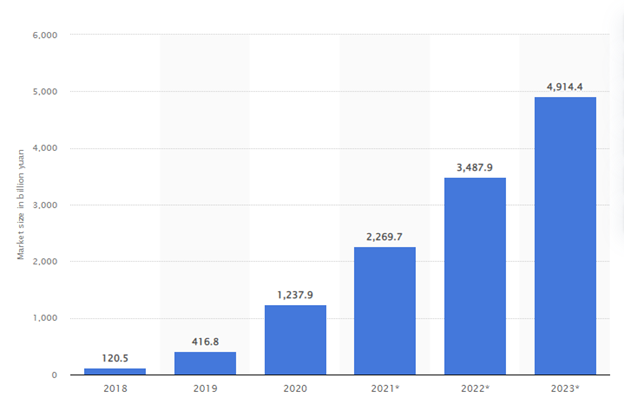 Livestream e-commerce consists of 4 parts: products, consumers, livestream anchors and platforms, e-commerce platforms or tools. Livestream anchors introduce and advertise products on their platforms, while consumers purchase products and the orders are sent to the e-commerce platform for delivery.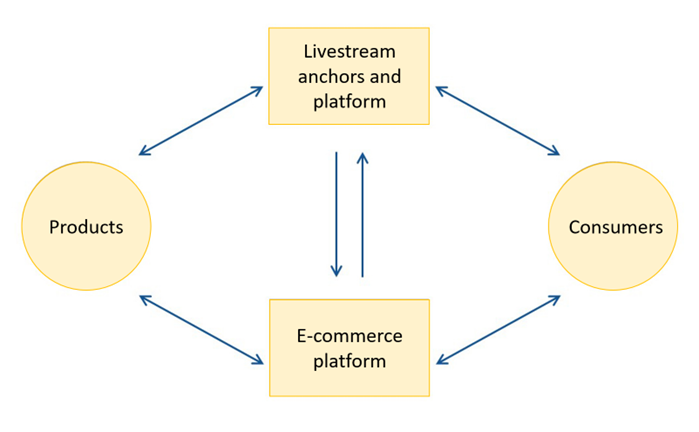 The 3 major Chinese livestream platforms include Taobao, Douyin, and Kuaishou, with other e-commerce platforms also integrating the livestream function into their systems. Currently, livestream e-commerce covers all product categories. The conversion of livestream e-commerce into sales return relies on 2 main factors:
1, The scale of total viewers in a livestream room. The more viewers watching and more traffic on a specific anchor, the larger sales generated. Celebrities such as pop stars or KOLs generally have a larger existing viewer base, hence attracting more viewers into a livestream room. China's top livestreaming influencer Li Jiaqi has over 64 million followers in his livestream channel on Taobao, and his sales record reached $1.7 billion during last year's shopping festival.
2, The professionalism of the livestream anchors. If the live anchors are capable of presenting more professional views on a product, the broadcast will be considered more credible by consumers. This is the reason why New Oriental has been successful in their own livestream business. The company applies its teaching and marketing background to pitching groceries. The livestreams are filled with philosophical lectures, musical performances, English lessons, with brief promotions of the actual product scattered in between.
What's next?
New Oriental's livestream business started last November but didn't take off until early June. Over two weeks in June, Oriental Select's followers on Douyin jumped from 1 million to 18.5 million, and the channel booked more than $76.7 million in product sales, according to Chinese social-media data tracker New Rank. This came after China's top livestream influencer Li Jiaqi disappeared from the public view. As former top livestream influencers such as Li Jiaqi, Viya, and Xueli leave the stage, livestream e-commerce is becoming more common among the public and general enterprises. Viewers and consumers are not just looking for online sales or discounts, but rather for distinguished experiences and parasocial connections.
However, some skeptics wonder whether Oriental Select's selling point—a livestream channel that spreads knowledge and feelings—can continue to attract attention and traffic.
Do you think New Oriental will take over the reign of Li Jiaqi or Viya?

A.Yes, it will take over as the top livestream influencer

B.No, the future of livestream e-commerce in China will have no top livestream influencers

C.Cannot be determined yet
Share your thoughts with us for a chance to win a free stock!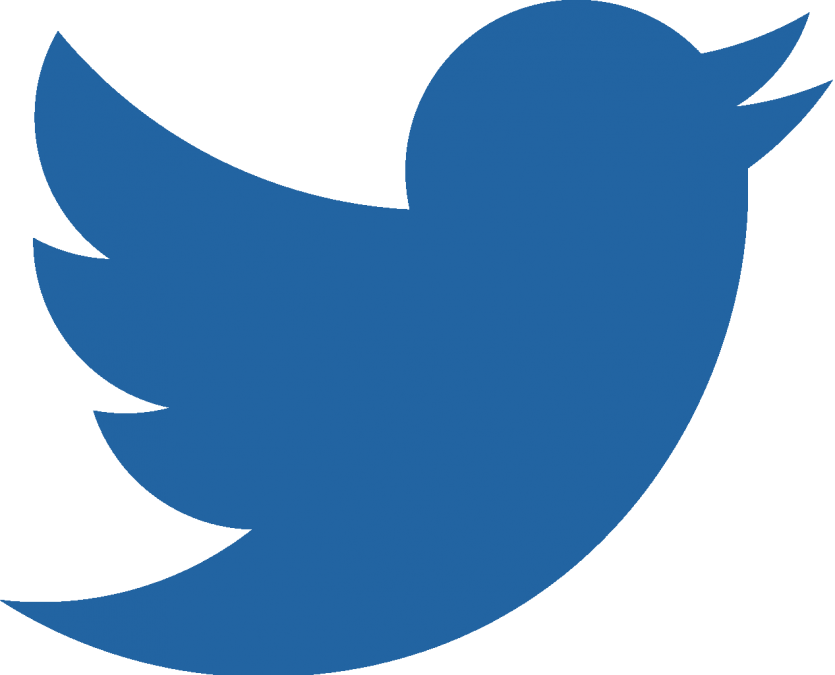 Inside Scoop
#1. Tesla releases Q2 report; sold 75% of bitcoin holdings

• 254.7k vehicles were delivered in the period ending June 30, an 18% decrease from Q1 2022 but a 27% increase from Q2 2021. Gross margin was reduced to 27.9% from 32.9% in Q1 due to factory expansion and supply chain difficulties.

• Tesla sold most of its bitcoins, adding $936m of cash to its balance sheet. CEO Musk said this should not be taken as some verdict on bitcoin, "It's just that we were concerned about overall liquidity of the company given the Covid shutdowns in China."
#2. ECB raises rate by 50bps, the first increase in 11 years

• The Frankfurt-based central bank unexpectedly raised its benchmark deposit rate from 0% to 0.5%, saying that further rate hikes will be appropriated at upcoming meetings.

• With Italy enduring a fresh bout of political turmoil, President Lagarde also unveiled a tool they hope will ensure markets don't push up borrowing costs too aggressively in vulnerable economies.
• Euro jumps as market raised bets on scale of future policy tightening. Crude oil falls as rate hikes stoke demand worry..
#3. Netflix earnings beat the market; lost fewer subscribers than estimated in Q2

• Netflix lost 970k subscribers globally, less than the 2-million loss projected in Q1. The company estimates it will add 1 million subscribers in Q3.

• The corporation announced it was in the early stages of deploying both a paid sharing plan (an upcharge on sharing subscriptions outside the home) and a cheaper subscription tier with ads. Both are slated for full rollout in 2023.
#4. China reduces US debt to under $1 trillion, lowest since 2010

• China has reduced its holdings of US treasury bonds to their lowest point in 12 years, following a trend of reducing the country's portfolio in US debt since 2021.

• Chinese holdings have performed poorly since the Fed began raising interest rates, reducing prices for sales before maturity.
Enjoy the app? Tell us what you think!


Disclosure:
TradeUP Securities Inc.: TradeUP Securities, Inc. ("TradeUP Securities") is a registered brokerage firm at SEC (CRD: 18483; SEC: 8-36754), a member of FINRA/SIPC and a member of DTC/NSCC, regulated by the US Securities and Exchange Commission and Financial Industry Regulatory Authority. Check the background on the firm on FINRA's BrokerCheck (https://brokercheck.finra.org).
Qualifying comments will be reviewed to select the winner of a share of free stock worth $10-15. In order to receive the free stock, the commentor must have a funded TradeUP account. The winner will be contacted via private message through our social media account for detailed information on claiming their reward.
Not Advice: The information contained in this material is for informational purposes only and is not intended to provide professional, investment or any other type of advice or recommendation, or to create a fiduciary relationship. TradeUP Securities does not make any representation or warranty, express or implied, regarding the accuracy, reliability, completeness, appropriateness or sufficiency for any purpose of any information included in this material. Certain information may have been provided by third-party sources and, while believed to be reliable, has not been independently verified by TradeUP Securities, and its accuracy or completeness cannot be guaranteed. You should not make an investment decision in reliance on this material, which is based on information that is likely to change without notice.
Not An Offer or Solicitation: Nothing contained in this material is, or should be construed as, an offer, a solicitation of an offer or an invitation to buy or sell any security or derivative, and it is not intended for distribution in any jurisdiction where such distribution would be contrary to law.
Risk of Loss. Securities and derivatives transactions involve risk of loss, including loss of principal. You should weigh potential benefits against the risks. Past performance is no guarantee of future results.
Not a Valuation:  This material is not an official valuation of any security or derivative mentioned herein.  Any pricing information provided is indicative only and does not reflect a level at which TradeUP Securities may be prepared to execute a trade; nor is it intended to demonstrate actual results that may be achieved by any transaction.
Electronic Trading:  Electronic trading poses unique risks to investors. System response and access times may vary due to market conditions, system performance, and other factors. Market volatility, volume, and system availability may delay account access and trade executions.
If you no longer wish to receive notifications like this, you can unsubscribe any time.