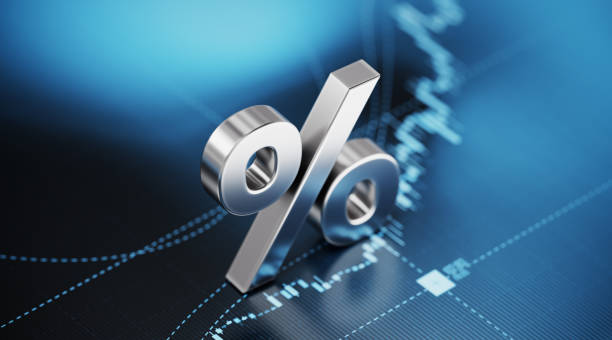 June 16, 2022




TradeUP Thursday




Latest news and bulletin updates
Market Trends

Dow Jones




30,305(-1.7%)

S&P 500




3,764(-2.0%)

NASDAQ




10,806(-2.6%)

(Opening price as of 06/16/2022 compared to last close)
Weekly Highlights




| | |
| --- | --- |
| #1 | Fed raised rates by 75 bps, the largest such increase since 1994 |

| | |
| --- | --- |
| #2 | The ECB is working on a new crisis tool to address fragmentation risk |

| | |
| --- | --- |
| #3 | Biden urges oil companies: more production, fewer profits |

| | |
| --- | --- |
| #4 | Musk to unveil more details on $44bn deal at meeting with Twitter employees |
Share Your Thoughts:
Bitcoin falls to 18-month low, what happened?

Bitcoin has crashed more than 30% this week. Retreat has wiped out roughly 1.5 years of gains, with bitcoin prices on the verge of falling below $20k for the first time since December 2020. Two high-profile incidents in recent weeks have accelerated crypto's fall: TerraUSD's meltdown and crypto lender Celsius's withdrawal freeze.
Crypto assets crash with great pain:
-Dubai-based crypto fund Three Arrows faces possible insolvency
-Celsius hired restructuring lawyers after account freeze
-Crypto firms such as Coinbase, Crypto, Gemini, and BlockFi announced layoffs this week
The chart below shows bitcoin price over the past 7 years.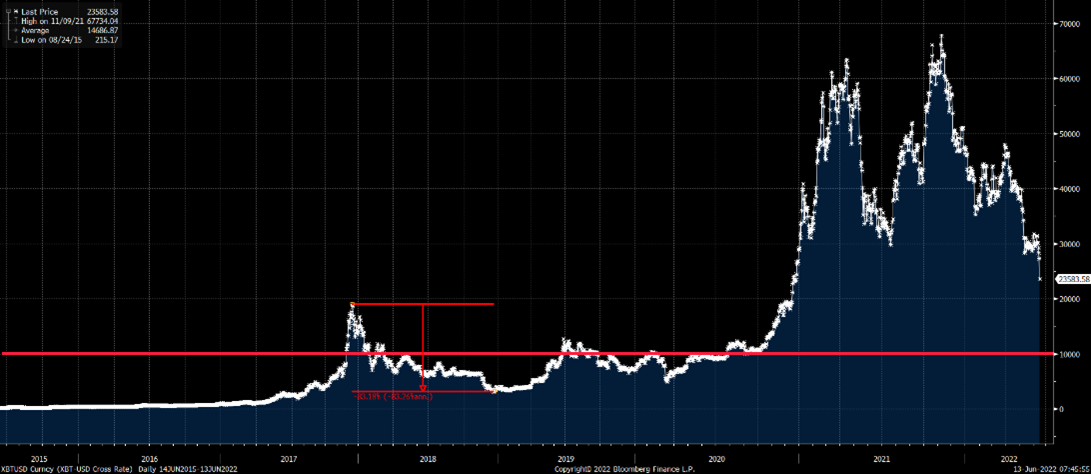 Crypto exploded after March 2020, along with a sharp rise in the stock market. Before that, bitcoin priced lower than its peak in 2017 for over 3 years. The surge in bitcoin for the past 2 years was led by mainstream institutional adoption and participation, and more retail investors' acceptance and confidence of the crypto concept.
However, both institutional and retail investors have lost their faith in crypto this year, as the risky asset lost its friendly environment of easy monetary policy and zero or negative rate. In addition, the crypto market is facing many more challenges than it did in 2017 due to the lack of regulation. SEC chair Gary Gensler described crypto as the "Wild West," as the lack of regulation has created an opening for widespread fraud, scams, rug pulls, and market manipulation. Currently, crypto/blockchain/stablecoin/NFT markets are crowded with issuers who just want quick money by constantly creating new concepts, and rookie investors with little investment knowledge and awareness of the industry. Mainstream institutional investors have left the table and it is difficult to call them back again without legal regulations from government?
What's your prediction for bitcoin price in by the end of 2022?

A.<$15,000

B.$15,000-$25,000

C.>$25,000
Share your thoughts with us for a chance to win a free stock!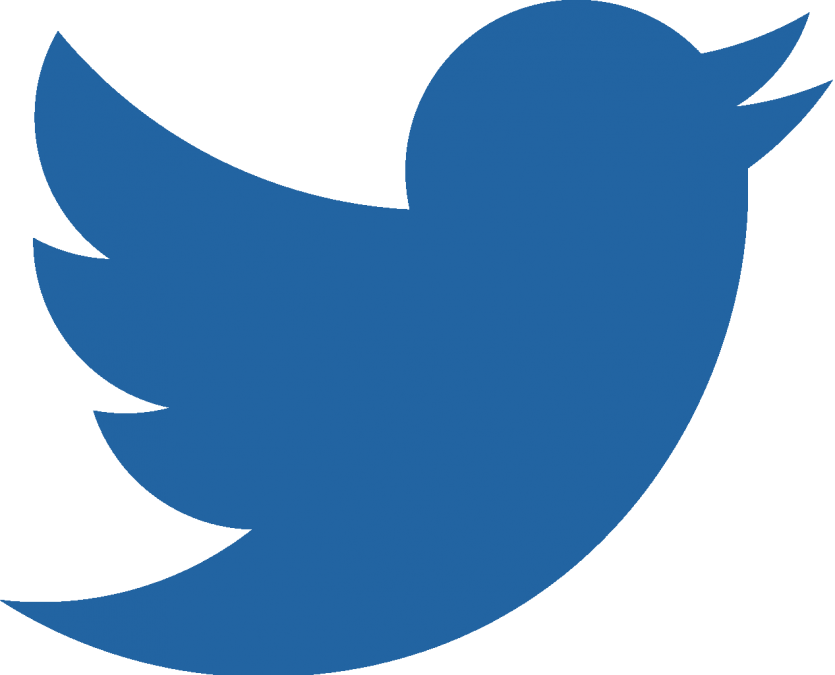 Inside Scoop
#1. Fed raised rates by 75 bps, the largest such increase since 1994
• Powell signaled the Fed's resolve to contain inflation at any cost, including accepting a recession and rise in unemployment rate. Atlanta Fed's GDPNow now predicts zero U.S. growth in Q2, after it forcasted a 0.9% GDP growth a week ago.
• The U.S. CPI rose to 8.6% in May from the same month a year ago, and it has been climbing rapidly since March 2021. Consumer sentiment plunged to a record low in June, and retail sales slowed in May as inflation weighed on spending.
#2. The ECB is working on a new crisis tool to address fragmentation risk
• It came after the ECB surprised market participants by announcing an emergency meeting to address higher borrowing costs for many European governments.
• The ECB suggested a more aggressive policy tightening last week but failed to deliver any new measures to support highly indebted nations in the bloc.
#3. Biden urges oil companies: more production, fewer profits
• Biden called on U.S. oil giants to increase oil supply, saying their profits have tripled since the beginning of Russo-Ukrainian War as Americans struggle with record high cost of living.
• Biden also plans to meet with Saudi Arabia's Crown Prince during his middle east trip in July to help stabilize energy markets.
#4. Musk to unveil more details on his $44bn deal at an all-hands meeting with Twitter employees

• Musk hasn't spoken directly with Twitter employees since he agreed to acquire the platform on April 25.

• He is expected to confirm his desire to own Twitter, and is also likely to clarify remarks on remote work and strategy at the meeting.


Disclosure:
TradeUP Securities Inc.: TradeUP Securities, Inc. ("TradeUP Securities") is a registered brokerage firm at SEC (CRD: 18483; SEC: 8-36754), a member of FINRA/SIPC and a member of DTC/NSCC, regulated by the US Securities and Exchange Commission and Financial Industry Regulatory Authority. Check the background on the firm on FINRA's BrokerCheck (https://brokercheck.finra.org).
Qualifying comments will be reviewed to select the winner of a share of free stock worth $10-15. In order to receive the free stock, the commentor must have a funded TradeUP account. The winner will be contacted via private message through our social media account for detailed information on claiming their reward.
Not Advice: The information contained in this material is for informational purposes only and is not intended to provide professional, investment or any other type of advice or recommendation, or to create a fiduciary relationship. TradeUP Securities does not make any representation or warranty, express or implied, regarding the accuracy, reliability, completeness, appropriateness or sufficiency for any purpose of any information included in this material. Certain information may have been provided by third-party sources and, while believed to be reliable, has not been independently verified by TradeUP Securities, and its accuracy or completeness cannot be guaranteed. You should not make an investment decision in reliance on this material, which is based on information that is likely to change without notice.
Not An Offer or Solicitation: Nothing contained in this material is, or should be construed as, an offer, a solicitation of an offer or an invitation to buy or sell any security or derivative, and it is not intended for distribution in any jurisdiction where such distribution would be contrary to law.
Risk of Loss. Securities and derivatives transactions involve risk of loss, including loss of principal. You should weigh potential benefits against the risks. Past performance is no guarantee of future results.
Not a Valuation:  This material is not an official valuation of any security or derivative mentioned herein.  Any pricing information provided is indicative only and does not reflect a level at which TradeUP Securities may be prepared to execute a trade; nor is it intended to demonstrate actual results that may be achieved by any transaction.
Electronic Trading:  Electronic trading poses unique risks to investors. System response and access times may vary due to market conditions, system performance, and other factors. Market volatility, volume, and system availability may delay account access and trade executions.
If you no longer wish to receive notifications like this, you can unsubscribe any time.